MLF Chapter & Verse
The Manchester Literature Festival Blog
Five questions for Emma Jane Unsworth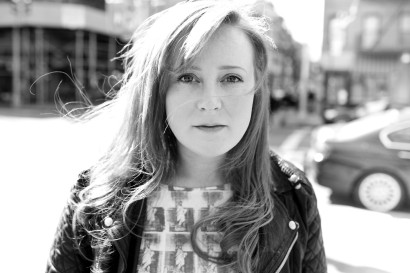 Emma Jane Unsworth's first novel Hungry, the Stars and Everything (Hidden Gem) won a Betty Trask Award from the Society of Authors and was shortlisted for the Portico Prize 2012. Her short story 'I Arrive First' was included in The Best British Short Stories 2012 (Salt). She has worked as a journalist, a columnist for The Big Issue, and a barmaid. Her second novel Animals was published by Canongate in May 2014. She's writing a third novel, as well as the screenplay of Animals, which is being made into a film. We asked her to tell us more about her life as a reader and writer in advance of her appearance at this year's Festival.

What books are on your bedside table right now?

What writers have influenced you and your work the most?

Lots! (I'm very impressionable…) But, mainly: Sarah Hall, Lorrie Moore and Glen Duncan.

What's your favourite thing you've written?

Probably a short story called 'In', which was in the first collection of Curious Tales, a ghost story book I made last year with a group of Northern writers – Jenn Ashworth, Tom Fletcher, Alison Moore, Richard Hirst – illustrated by the artist Beth Ward. We're publishing a second volume this year to celebrate the centenary of Robert Aickman, a great unsung British horror writer. 'In' was about mental illness and possession, and about how everyday objects can be imbued with a terrible supernatural threat sometimes. That collection, The Longest Night: Five Curious Tales, was a sort of homage to M R James. I think 'In' is maybe my favourite thing I've written form-wise because it came out in one long gush, and I perhaps feel as though I have some small handle on short stories because I've written about twenty of them – unlike novels, which still confound and terrify me most of the time.

How would you describe your latest book?

I've just finished the first draft of my third novel and am about to start editing it, which will take some months. It's a one-woman comedy thriller set in a motorhome. It's for anyone who's ever completely screwed their life up. Or for anyone who likes hearing about other people who've completely screwed their life up. So basically, it's a book for sickos. Any sickos out there? Oh, good.
What do you do when you're not writing?

Usually, think about whatever I'm writing. I've tried everything – dinners out, fine wine, overseas travel, gambling, pilates, Valium, trance, conversation, but no – whatever I'm doing the book sneaks through, and I sit there, mercilessly stealing anecdotes and jokes from my nearest and dearest, typing them in my phone or noting them on scraps of paper. I genuinely expect to have no friends left by 2016.

_
See Emma Jane Unsworth read from Animals at our Canongate Lates event on 10 October at the Burgess Foundation, in the company of Anneliese Mackintosh, Zoe Pilger and musician Karima Francis. Tickets £7/5, booking and information here. Emma is also a judge for this year's Blog North Awards. The winners will be revealed during the Festival at an event on 8 October at The Deaf Institute, featuring Claire Dean and the Flashtag collective. Tickets £6/4, booking and information here.