MLF Chapter & Verse
The Manchester Literature Festival Blog
#MCRreads no. 3: Dan and Rachel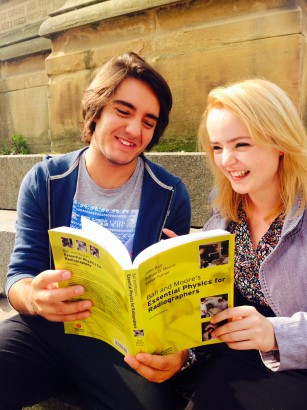 Manchester is a city of readers, and we're getting out and about to embarrass… ahem, talk to people we spot enjoying a book around the city for this occasional series on Chapter and Verse.
Who: Dan (from York) and Rachel (from St Helens), visiting Manchester for the day and enjoying Manchester Food and Drink Festival
Where: Albert Square
What book: Ball and Moore's Essential Physics for Radiographers
Rachel: "It's for a three-year course, we have an examination on this."
Dan: "Rachel's just finished, I'm just starting, so she surprised me by giving it to me."
Rachel: "I'm not a fan of physics."
Dan: "I've just read the contents page. It's in a very logical order. It seems to make sense."
(At this point we asked them to talk about some of their other favourite books or what they were reading at the moment, thinking we had taken this radiography thing about as far as it could go.)
Dan: "I like that John Steinback book, Of Mice and Men. The relationship between Lennie and George, it's a classic. My sister's doing it for her GCSEs right now – I remember that book so clearly."
Rachel: "I've been reading The Cuckoo's Calling by J.K. Rowling (writing as Robert Galbraith). I love the Harry Potter books. This one is better than the other one she brought out, The Casual Vacancy – it took me a while to get through that."
–
You can take part in our MCRreads campaign by tweeting or posting a photo of yourself reading a book, using the hashtag #MCRreads. We'll retweet the photos and our favourite each week wins a book by an #MLF14 author.