MLF Chapter & Verse
The Manchester Literature Festival Blog
Review: Bad Language with Matt Haig and The Writing Squad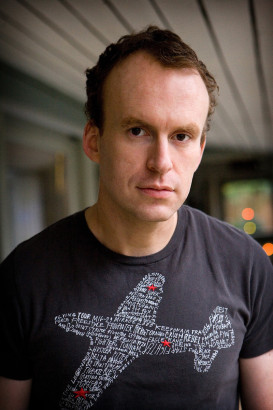 Hard though it is to believe, tonight is the first time that the binary stars of Manchester's bookish firmament – Bad Language and the Literature Festival – have come into alignment. Even though the former has been emitting pulsar-like bursts of spoken word and poetry for nigh on five years, it is a Festival debutante. Perhaps for this reason, then, there is a giddiness about the Burgess Foundation this evening – the chatter of poets and the shatter of glasses – as much in keeping with a coming out party as a literary soiree.
Our master of ceremonies is Fat Roland, a clean-shaven Johnny Vegas with an ear attuned to bathos and an eye for talent. First to the stage however, hectic with poetry and promise, are crack members – present and past – of The Writing Squad; a programme for the development of young Northern writers.
A firework display of potential and potency, it seems churlish to single any one of the battalion out. Northern Writers' Award Winner, Jasmine Simms' poems, with their deceptive undertow of adolescent sexuality disquieted beguilingly, but she could not quite hold a Roman candle to James Giddings. His I'm Told My Name Is Geoff stakes a claim to the hitherto unexplored territory between Viz and Stephen King.
In a two-part party, guest of honour, Matt Haig (pictured), amiably and ably straddled the divide. His first reading was from his latest novel, The Humans, an ecological study of the planet's most self-regarding species from the point of view of an extraterrestrial. Neither The Man Who Fell To Earth nor – thankfully – Mork And Mindy, its tone sits closer to the humane bemusement of Douglas Adams or Kurt Vonnegut. Indeed, in the spirit of Adams' own co-written The Meaning Of Liff, a slim companion volume – an abbreviated dictionary for the alien lacking a Babel fish – is available as Christmas impends.
The evening will culminate with a chapter from his next book, a memoir of his experience of depression, Reasons To Stay Alive, which is at once personal and universal; not self-pitying, but self-compassionate.
In the end, however, it is Bad Language's party, and their own quartet frame a diversity of diversion, taking in all points North, from Rebecca Audra Smith's droll depilations to David Judge's Manc confessionals.
The tales that lingered once the lights went up and the chairs were stacked away were, however, those of Abi Hynes and Ben Judge. Fittingly, the former related a short sharp serving of dinner party terrorism, a drop of acid in counterpoint to Ben's wry approximations of 'love poems'; Valentines from the disaffected and disturbed.
The party resumes at Bad Language's more regular haunt, The Castle Hotel on October 29th – in the company of Michael Nath – and rises once more for an iteration in honour of All Hallow's Eve at The Royal Exchange.
Come out, come out, wherever you are.
_
Desmond Bullen is a chimney sweep from Wigan who dreams of winning the Isle Of Man T.T. race.