MLF Chapter & Verse
The Manchester Literature Festival Blog
Review: Blog North Awards 2014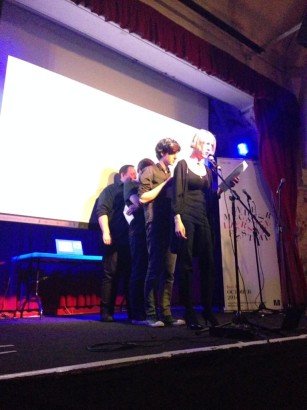 Young Digital Reporter Olivia Swayne-Atherton reviewed the 2014 Blog North Awards evening on 8 October…
On a cold wet, autumn's night people entered'The Deaf Institute with a mix of excitement and nerves as it was the venue for the ninth annual Blog North Awards. As a first timer at the awards I walked in and straight away got a strong sense of community; it was as if I was a guest invited to a private party. The setting was perfect and intimate; it was chilled, with dim lights, people chatting and getting to know each other, drinking, music playing in the background. The theatre stage had classic red velvet curtains on each side, a wall full of speakers and a giant disco ball on the ceiling… and in an odd way it all fit together nicely.
Organisers Kate Feld and Chris Horkan networked the room welcoming guests and nominees, as guests and shortlisted bloggers took their seats Kate took to the stage. The Blog North awards recognise the most vital, innovative and engaging writers and it really didn't disappoint with a night that showcased some incredible talent with some amazing life stories. It went off with a bang with the four piece Flashtag Writers (above). Straight away the writing was just on point with people in hysterics. Next was a video about Jalapeno Fire Doritos by David Bailey, the writer of Food Legend. The video was weird but funny.
A relatable and highly amusing writer, Mollie Simpson, creator of blog If Destroyed Still True read out part of her diary from when she was 12 years-old –  illustrations included. The funniest part of her reading was the length of some of her entries and how after each entry she wrote 'Bye'. The way Mollie read it was hilarious and at times cringeworthy.
What made this event so amazing is that it featured generally normal people who had such incredible talent. For example, Kevin Boniface from Huddersfield, the writer of  blog The Most Difficult Thing Ever.  He is a postman and writes about what he sees; Kevin's writing was funny, relatable and brilliant. Another great moment was when Claire Dean read her commissioned story called 'Pomona Fair'. I felt like a child listening to her story. I was sucked in, imagining every word she spoke… it was just amazing. Then it was time to announce the winners (see a full list with links here: blognorthawards.com)
I couldn't believe so much talent was in one room! I wanted to review this event as I write my own blog and love reading and finding out about other people's blogs and stories. I would highly recommend attending next year just to have the chance to experience the talent. You end up meeting so many people and if you're new to blogging it is amazing to realise how far it could take you.