MLF Chapter & Verse
The Manchester Literature Festival Blog
Review: Canongate Lates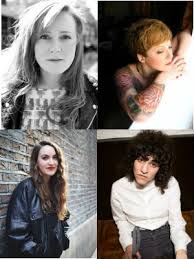 Young Digital Reporter Alexandra Sutton reviews our Canongate Lates event with authors Emma Jane Unsworth, Zoe Pilger, Anneliese Mackintosh and singer-songwriter Karima Francis…
Upon arrival at the International Anthony Burgess Foundation, I bought my self a large glass of wine. I then nursed that glass of wine for the following hour – I was so excited to be in a room with four great, great women, that I had arrived comically early. Fortunately, I was not to be disappointed. Canongate Lates, featuring three groundbreaking writers and one strikingly original musician, was the type of event I'll still talk about in years to come.
There was a lovely feeling of camaraderie – I got the sense that everyone was as geekily excited as I was to be there, including our tip-top host, Katie Popperwell. She welcomed us with a wise and witty speech about common depictions of women writers (let's all stop using the phrase 'chick lit', please) and how the writing presented at the event felt like a 'shift in the literary landscape.'
First up was Zoe Pilger, art critic for The Independent, PHD student and author, reading an excerpt from her debut novel, Eat My Heart Out. A tale of 'modern hipsterdom' and second wave feminism, her novel explores what it is to be a young woman caught between a hardcore feminist mentor and a love of Queen Bey (amongst other things, of course). Pilger noted how she and her fellow women writers are often referred to as 'literary bad girls', and questioned whether this was at all appropriate. I'm with Zoe on this one – these women are not 'bad girls', they are just women, honest, open women writers whose works are not close to the bone, rather they hack through the bone altogether.
After Zoe came Anneliese Mackintosh. Annaliese read from her collection of short stories, Any Other Mouth, and her reading was for me the most beautifully intimate and poignant of the night. She reads like a seasoned performance poet – her writing is epigrammatic, enticing and endearing, and is perfectly suited to a night of live literature. She carried us all with her through a list of funeral requests – a Roald Dahl revolting rhyme to be read, her 6 most recent lovers to attend, how she above all wants her mum – and it was just superb. 'Each little one a howl', said Annaliese of her stories. For me this one was a beautiful, painful swan-song.
Our final reading of the night came from Manchester's own Emma Jane Unsworth. At risk of sounding like a complete fan-girl – I love, love, love her book. After the gentleness of Mackintosh's reading, peppered with moments of hilarity, Unsworth's reading was the perfect follow up. After listening to her read from Animals, my face was actually aching with laughter. I could whip out all sorts of deep, intellectual comments on her work, but surely that has to be the biggest compliment. Unsworth's fabulously familiar accent, self-deprecating delivery and assertion that she really did meet a man in the Village named 'Chicken Sandwich', had us all hooked. Animals is the story of an aspiring writer and her manic-pixie-nightmare best mate, tearing through the streets of Manchester and through each other. Her novel is messy, methy, Mancunian magical realism – read and be amazed.
In a lovely end to the evening, Karima Francis played a very special acoustic set. She came straight from the studio and belted out several never-before-played songs like a complete dream. Her voice is simultaneously powerful and vulnerable – it doesn't tug at the heartstrings, it positively tears them out. I sat back and let it all wash over me – she was the perfect counterpoint to an evening of laughter, intensity and personal insight. Ultimately, that's what live literature should be all about – connecting with an audience who usually only feel you through the pages of your writing.  As Katie Popperwell noted, these writers offer us 'political portraits' that are often shattering, powerful and entertaining, but above all they are intimate and personal – these qualities shone through at this cracking event.