MLF Chapter & Verse
The Manchester Literature Festival Blog
Review: Faber New Poets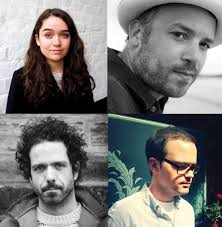 MLF Blogger Charlotte Rowland braved the Manchester rain to see four of the Faber New Poets read at Central Library…
Four poets, four colour-coded books, and only one rainy October night to learn what they all have in common. Or don't. That's right. Faber New Poets have come around, again, for the third time, following the success of the 2009 and 2010 front-runners. Rachael Allen, Will Burns, Zaffar Kunial and Declan Ryan, though new voices, each represent a style of writing which demonstrates their own claim on language, with their latest pamphlets allowing them the space to curate and refine their voice.
Allen, poetry editor at Granta and curator of online journal Tender, opens the readings with a set of poems that take on more than a usual degree of sensitivity. 'Lilac' villages and 'crepuscular front rooms' manifest subtly, while 'quivering cats' and 'someone I love' populate these expanses.
'A lot of my poems seem to start with a single word', says Kunial, between poems. Kunial, the third to read tonight, after Burns, and the only one of the four to read without his book, was born in Birmingham, and is the current poet-in-residence at the Wordsworth Trust. His poetic concern for small, insular spaces, perhaps, is linked to this upbringing, and his poems make known a need to discover substance:
Yes, I know. Empty.
But there's just something between
the p and the t.
Questions of origin link Kunial and Ryan, who ends the readings with a delicate reference to 'a lot of shadows', while Allen and Burns deliver quietly firm lines which imbue their poems with a sense of assertiveness, as in Allen's line: We all have our share of certainties.
Certainly we could all, if pushed, list one or two things we are sure of. But also, certainly, we could all, if pushed, list three or four things we are not sure of. It is this awareness, however, or this level of mature dignity, that allows poems like the above, and those read tonight, to maintain their context without directly alluding or adhering to it. And, on the question of how important context is to a poem, Ryan refers back to a Fred Astaire quote: 'If it doesn't look easy you're not working hard enough.' Which, quite simply, means these poets have it nailed.
Not only do their poems grant the option to take the poem solely for what it is, without the need for superfluous outside material, the reading as an event itself, similarly, has all the room absorbed. This was the final poem Will Burns read in its entirety:
She turns the light on when she comes in the room.
Honestly. It's as simple as that.
Honestly? Maybe it is all as simple as using language to re-examine the mundane, and re-considering what the everyday is and how we make use of our experiences. Truthfully? Writing isn't only about observing and capturing what you see. You need style, subtle vision and a certain awareness of aesthetic which allows your words themselves to be Burns' 'light'. Poetry is about turning on, which means turning on your senses, your voice, your opinions and your definitions of beauty. All of this is happening here. And all of it will continue.
_
Charlotte Rowland is a writer and arts promoter currently undertaking a project on the likeness of photography to language. She works at the Whitworth Art Gallery and studied an MA in Creative Writing (Poetry) at the University of Manchester. Examples of her writing can be found in The Manchester Anthology, Black & Blue and via her own blog: http://www.floralengravings.blogspot.com