MLF Chapter & Verse
The Manchester Literature Festival Blog
Review: Face to Face With Kay Mellor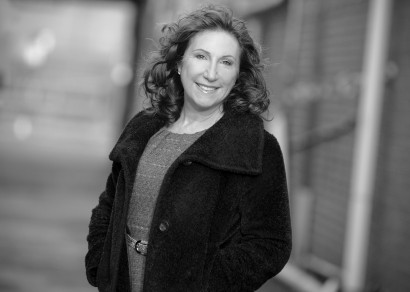 Young Digital Reporter Emilia Mincheva reviewed our industry event with television leading light Kay Mellor…
The disheartening weather conditions could not stop me and many others from going to Media City to see one of the most iconic figures in the world of television drama in the UK – Kay Mellor. Hosted by The University of Salford, "Face to Face with Kay Mellor" attracted dozens of people of all ages, predominantly women, who eagerly anticipated spending an hour with the award-winning scriptwriter. The event, which was run in partnership with BBC Writersroom, started with highlights of Kay Mellor's work over the years.
Kay Mellor is one of the biggest names in the competitive television arena. She is best known for her work on several successful dramas including Band of Gold, Fat Friends, A Passionate Woman and The Syndicate. Kay Mellor has started her career by forming the Yorkshire Theatre Company and has written continuously for theatre and television before winning the BAFTA Dennis Potter award in 1997 for Outstanding Writing for Television. Today her work serves as a true inspiration for many scriptwriters who make their first steps in television drama.
What drew my attention to the event was my great respect to Kay Mellor and her impressive work. I love the fact that she uses a personal element and humanity in her dramas and often incorporates real-life stories of people she knows, even friends and family members. Humour is part and parcel of her work and she describes it as an "amazing tool to help you open up your viewer". Kay Mellor was interviewed by Kate Rowland, Creative Director of New Writing at the BBC. The successful scriptwriter described television writing as a "free therapy". I was amazed by the way she talked about people. She said: "I find people fascinating. I do not ever count the pages. I just write what it is. Writing is a lovely profession. It is just you and your imagination."
Kay Mellor has worked with many different editors and producers over the years but her younger daughter, the actress Gaynor Faye, remains the biggest critic of her work. The scriptwriter said she always built the characters around the story and aimed to create complex, multi-layered ones. "What you should love as a writer is complication – a key ingredient," she said. She believes it is also important to give actors the liberty to say what they want to say. "It is great when actors bring their own thing to it. Do not treat actors like puppets because they bring so much."
Mellor's advice for new writers:
·    Rule No.1 – Never give up.
·    Always ask yourself "What if…" – What if she was rich? What if she was gay? What if she lost her job?
·    There is no such thing as a wasted idea or a wasted thought.
·    Write what you care about.
·    Watch and analyse.
·    Ask someone to read your script. Do not think you are the greatest writer.
The event lasted for an hour but Kay Mellor's inspirational words will remain much longer in my mind. Face to Face with Kay Mellor was a fantastic experience which sent a very powerful message to the audience – never let humour get out of your script… and your life!