MLF Chapter & Verse
The Manchester Literature Festival Blog
Review: In The Dark Radio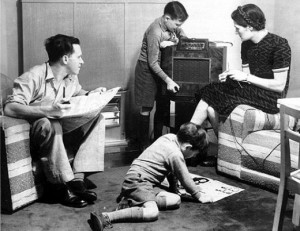 Festival blogger Desmond Bullen was at the Burgess Centre for an unusual event in which the audience listens to short radio programmes in the dark…
There is something uncanny about radio. For all its pervasive familiarity, the wireless is a medium of disembodied voices.  Like that other nineteenth century invention, the séance, it best befits a darkened room and a gathering of the curious and like-minded.
In The Dark cleaves closely to this capacity for uneasy intimacy. Convening every two months at The Castle Hotel under the presiding spirit of BBC radio producer, Nija Dalal, it harbours a space in which the medium can be conjured in all its enchanting potential. Aptly enough, for its incarnation at the Literature Festival, it takes as its theme the written word.
The exposed bricks of the International Anthony Burgess Foundation evoke the austere expectation of a spiritualist meeting, and – once the lights have gone down – the torch-lit ushering of late arrivals only further charges the atmosphere.
Over an hour that passes with all the swiftness of a dream, a host of compelling voices manifest; broadcasts of breadth, sometimes breathtaking, sometimes not.
Arguably, the piece that both best suited the occasion and broke against the restraints of radio to the greatest effect was Noise To A Minimum, Jon Tjhia and Oslo Davis' impressionist invocation of the library as the last cathedral of silence. Doors squeak like Herriman strings against a multitude of half-heard voices, transporting the listener to the reading rooms of their own recollection, before the reverie is broken with all the abruptness and finality of a cough.
The sound design of the piece was as unexpectedly dislocating as any in the films of David Lynch, and the absence of this attention to spatial detail in Jonathan Mitchell and The Truth's short drama The Death Of Poe rendered it contrastingly commonplace. Its Gothic melodrama lay latent and unresurrected in what proved to be perversely easy listening, where unease was surely its intention.
More successful in its marriage of narrative and form was Daniel Gross' Bookbinder, a documentary tale of a life disconnected by accident and stitched together by the titular craft. Affecting enough in the broken bones of its detail, its tragedies were deftly embossed by its well-judged motif of gilt seared into leather, like manifestations of memories lost through callous happenstance.
Indeed, throughout the best of the hour, it was the audience itself who were bound; bound (of course) by the thread of literature, but bound too as if by a spell, of sounds in the dark, drawn together in disquiet and delight.
Desmond Bullen is a chimney sweep from Wigan who dreams of winning the Isle Of Man T.T. race.