MLF Chapter & Verse
The Manchester Literature Festival Blog
Review: Kate Tempest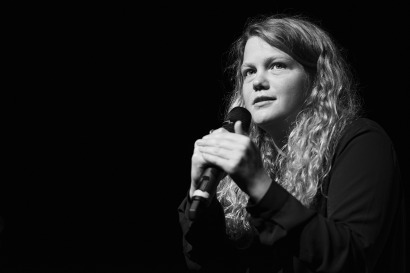 Festival blogger Abi Hynes is staggered, shattered and blown away by performance poet Kate Tempest's MLF gig…
I don't know how to write this review. I really, really don't. See, trouble is, I went to this gig on Saturday night, and it had a pretty big effect on me. I say 'gig' – because 'poetry recital' or 'spoken word performance' or whatever else we might typical call an evening spent listening to one woman alone on stage reading poems about life ('It's good to care about things so much you end up exhausted'), love ('If you want to know your worth, ask your lovers. / Especially the ones who don't talk to you anymore.'), gender ('She learns how to smile / Without meaning an inch of it') and ageing – are all blatantly, obviously wrong. I like 'gig' because it's guttural. It has some power behind it – it's cool, it's young, it's sometimes angry. It knows itself. I strongly suspect that all of Kate Tempest's shows are gigs.
I'm getting side-tracked. My point is that I realise I don't know how to write a review of something that I – honestly, truly – thought was shatteringly brilliant. When I tried to articulate this struggle to a friend of mine, they told me, gently, to try and 'be a bit more open'. I think Tempest – the self-proclaimed 'evangelical empathy priest', as she described herself at one point – would approve of this. So, here goes.
Tempest was staggering. She performs like she wants to throw her arms around the whole audience, and her work has the magical ability to feel like it's about you, the audience, and not about her. Her set was taken from her new collection, Hold Your Own, which is bookended with her retelling of the story of Tiresias, the blind prophet, who – legend tells us – lived as both a man and a woman. She explains, in a brief Q&A with Contact Theatre's Artistic Director Matt Fenton, that she felt this framework freed her to explore her own personal stories in a way that she might not have been brave enough to do if they'd had to stand alone.
Certainly, her performance of the Tiresias narrative poem is a rather momentous achievement. Running at about twenty minutes long, I don't think any of us take our eyes off her, as she spits, sings and stamps her way through its epic themes and detailed imagery, its many characters and its thrillingly contemporary twists. But it's the poems about her own experiences that wrap us all firmly around her little finger. A story about losing her dog in the woods and coming across two adults, *ahem*, cuddling, is painfully, tenderly funny; another, about watching other loved-up couples after a fight with your own partner, is both hilariously accurate and shyly romantic. There's a lot of laughter – so much, that she has to take a moment to calm down before reading some of her darker material.
Because as well as personal, Tempest's set is also fiercely political. I'm still thinking about Progress, the poem in which she takes on our obsession with screens and detachment face-to-face interaction with the rest of humanity, and her Ballad. of. a. hero. Is the most empathetic, non-judgemental anti-war poem I think I've ever come across.
I have a feeling that seeing her perform may have been one of those rare, formative live experiences that haunts you (in a good way) forever. I had an actual rush of relief when the person next to me got to their feet to give her a standing ovation, so that I could join them.
I've never seen a poetry crowd so swept away. To tell you the truth, I've never seen poetry move like it.
_
Abi Hynes is a drama, fiction and poetry writer. She runs theatre and film company Faro Productions and First Draft cabaret nights. Follow her on Twitter: @AbiFaro
Photo: Jon Parker Lee