MLF Chapter & Verse
The Manchester Literature Festival Blog
Review: Sebastian Barry and Colm Tóibín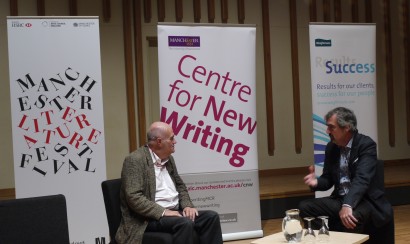 Festival Blogger J.P. Daly enjoyed a spirited conversation between two of Ireland's greatest novelists, Sebastian Barry and Colm Tóibín…
When Sebastian Barry talked of those who 'wrote Ireland into being' he was mainly referring to the writers of the late 19th century, naming in particular Yeats and O'Casey. This was not a remark that seemed wholly positive (though also not one intended to disparage either). It was a clear commentary on what both he and Colm Tóibín see as problems within Irish literature and Irish identity, 'the narrow gap of Irishness' that exists when discussing the country and its relationship with the outside world and itself.
The question that led to this point came at the end of the night and was, unusually for an event such as this, the only audience question of the evening. This was not due to a lack of interest in the authors or their work but more testament to the in-depth conversation between the two after their respective readings. The clear bond and affection between the authors came across throughout the evening as they gently joked with each other, discussing their families and their mutual failings at the Booker Prize ‒ Tóibín maintaining it was 'good for his moral character' to not win the Booker ‒ which both have been in the running for more than once and never won.
The state of identity and essential Irishness was something both are clearly very interested in, and the topics encompassing it were broad, from the reaction towards the Irish who died in World War One, through the continuing loss of the Irish language, to the feelings within their own novels of a sense of loss that comes both with their own age and the changing landscape of their native country ‒ at times literally changing, as Tóibín mentioned villages that have eroded off the coastline.
They were both, of course, here with new books and readings from each started off the night. Barry's theatrical background came through with his unexpectedly animated reading, contrasting with Tóibín's more measured approach. Barry's reading dealt with the awkwardness of an Irishman abroad in British Service after WWII, whilst Tóibín's Nora Webster extract addressed the changing landscape of small town Ireland and touched upon loss of faith ‒ a theme they'd come back to in discussion later.
Both writers were keen to stress that the question of Ireland's identity is still very much up for discussion; it's a cultural identity that is ever shifting. They joked, as the night unwound, that there was no Irish ballet and said maybe they should try that next, so perhaps we'll get to discuss the state of Irish dance with them next time.
_
J.P. Daly is a short story writer from Manchester currently working on his first collection. As a founder and co-organiser of live literature organisation Bad Language, he can often be found in the back room of pubs around Manchester, notably The Castle Hotel. Find him on Twitter @jpmdaly