MLF Chapter & Verse
The Manchester Literature Festival Blog
Review: Simon Armitage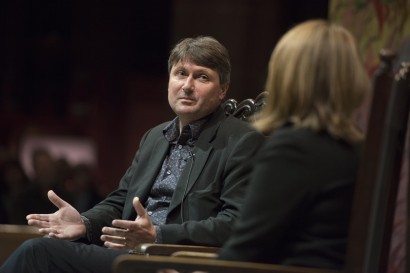 Festival blogger Sarah-Clare Conlon headed to Manchester Cathedral for the launch of Simon Armitage's selected works, and an engaging conversation between the poet and journalist Rachel Cooke…
"I'm not very good at making things up. I don't think I have much of an imagination."
Quite a statement from a man who, 20 years ago, jacked in a career with the probation service to become a full-time writer and has, since 1989, published 10 collections of poetry, two novels, two non-fiction books, plays, lyrics, TV, radio… but the wild ponies bolting between traffic gridlocked on the motorway in Yorkshire were real, insists Simon Armitage when questioned by an audience member about his 2006 poem Horses, M62.
It gets another outing in Paper Aeroplane, Armitage's new selected poems collection, or "greatest hits", as Observer writer and fellow Yorkshire lass Rachel Cooke suggests. So is putting this kind of retrospective together a bit like writing an obituary, she wonders.
"By leaving things out, it does feel a bit like you're killing them off," agrees Armitage. "But I don't like dwelling on things." In fact, Keeping Going was a title he considered. "When the book came through the letterbox and I ripped open the Jiffy Bag and took it out, I decided to take a bit of time to be proud of it. Three minutes later, I was onto the next project."
Laughter echoes off the vaulted heavens of Manchester Cathedral – Armitage's anecdotes have the same understated humour as some of the poems he reads, particularly the penultimate one, Poundland, complete with a "duty manager with a face like Doncaster" and inspired by one of his students' stories about finding a copy of Ezra Pound's letters in Poundland. "Other supermarkets are available," jokes Armitage.
We hear about making the decision to become a full-time poet – "You've set yourself up as a writer, you've declared yourself as a writer… you have to write" – we hear about his recent work translating Middle English texts – "You would not believe the misery Monty Python has caused the Medievalists" – we hear a lot about his strong links to the North; about him being "a Ted Hughes fanatic". And we hear some cracking poems: Snow Joke, the first in Paper Aeroplane, for one; Evening, another.
But what I came away with was how down-to-earth Armitage was: his work was first published in a small magazine based in Leicester and he received a cheque for £2. He never cashed it, instead keeping it as a memento. "To see something in print for the first time – it's steeper than exponential. I think then you think of yourself as a writer – there's no going back to that innocence." He takes a moment, then: "Having said that, I've also got enough rejection slips to wallpaper a small bedroom."
_
Sarah-Clare Conlon is an award-winning culture blogger and micro fiction writer with work published by Salt, Comma and Flash.
Photo: Jon Parker Lee