MLF Chapter & Verse
The Manchester Literature Festival Blog
Review: Story Time with Maisy and Dad, Family Reading Day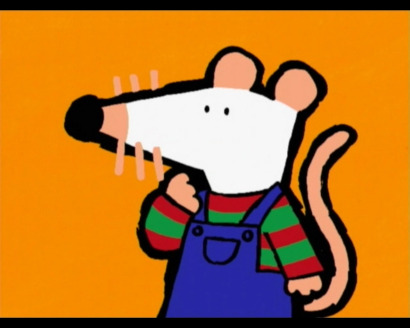 Hello, I'm Emily, and I'm twenty months old.
Hello, I'm Benjamin. I'm a bit older. I'm Emily's dad.
Daddy is writing my bits because I do my writing with felt pens and mostly it is a bit too squibbly for reading.
I am writing my own bits too.
My favourite pen is orange pen. I also like yellow pen.
I love the Manchester Literature Festival and, even before I had a child, I counted the Family Reading Day as one of the best things about it. Children love books, adults, less so. The more we get children reading, the more they will carry on that love through the rest of their lives. Plus, they put on a great day. Now I have an excuse to actually go.
Daddy says yellow pen is actually blue pen but that is silly. Yellow means all colours that aren't orange. Blue is a silly word. Daddies are silly.
So, we sit in a semi-circle, kids at the front in the most wonderful listening-seats you will ever see, like soft rooftops. We are waiting for the story to begin. But first! Who's this! A special guest! It's Maisy Mouse!
The monster was a mouse as big as a daddy or a mommy. I asked Daddy why he brought us to a scary place.
Unfortunately, as soon as Emily saw Maisy she got upset.
I politely asked Daddy if he might take me outside.
"Dadddyyyy. No. No. No. No. No. Daddyyyyy!"
Daddy took me outside the room.
I took Emily to see the children's library where we read a Mr Pusskins book –

Meow meow meow meow
– and a book about monkeys –

Ooh ooh ah ah ah
– and listened to the parents discussing how good the Maisy and Dads story time was.
I liked the library except for the monster mouse. I think he might have eaten lots of children. I'm glad my daddy got me out in time. He is alright really, Daddy, even if he doesn't know what yellow is.
The children's library is great, chairs on wheels, curvy cushions, puddles of light to stomp in, and books, books, books.
Yellow is good but orange is my favourite. I like orange. I like orange because it reminds me of oranges.
So, another great Family Reading Day –

If you don't count the children who were eaten by the big monster mouse.
 – from Manchester Literature Festival. Or at least that is what I was told by the people who actually saw some of it.
Daddy, can I have an orange?
_
Benjamin Judge writes words, sometimes, when he's allowed, mostly short and very short stories. He also does stay-at-home-dadding and sending postcards to the prime minister. He's on twitter @benjaminjudge