MLF Chapter & Verse
The Manchester Literature Festival Blog
Review: Tales from The Towpath (Part 2)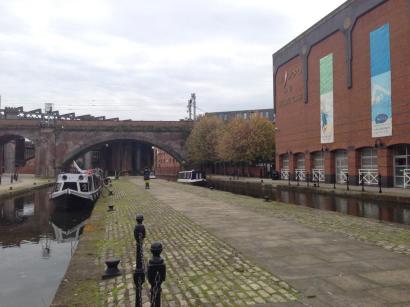 Sarah Jasmon reports back from the Tales from the Towpath project's performances and second immersive writing workshop
How many different ways can you think of to present a narrative? Books, film, radio? Yes, yes, yes. But what about unconventional print formats, or a powerpoint installation projected onto a pentagon of huge mirrors made from foil? Or tablets hidden inside books which are in turn hidden around a library with clues that must be decoded to get a machine working? Wordle and Twinery and Pirate Pad? Open sources and collaboration? IT'S ALL SO EXCITING!
I was a bit tired when I arrived at the People's History Museum on Saturday for this second workshop. The night before, I'd been to the late showing of the Tales from the Towpath performance. (When I say late, I'm talking in relative terms, by the way. Even with the drive back to Lancashire, I was still in bed by midnight.) It was a beautiful event, the lights from Castlefield sparkling through the raindrops on the windows of the narrowboat as multiple voices took us along the canals and rivers of the city, linking past and future with the introduction of some rather menacing canal sharks. In the spirit of immersive writing, there was also micro-projection and mirrors, and some rather deft weaving in of audience participation. Good thing Hurricane Gonzalo hadn't arrived, though. Narrowboats are quite wobbly enough, and the stalwart volunteers braved the rain to usher guests aboard as it was. They do a great job.
So, Saturday's workshop was going to have to come up with the goods to get my brain working. Which it duly did. It was the turn of the second half of the Tales from the Towpath quartet, Sarah Hymas and Helen Jamieson. I thought I'd travelled a fair way for the day, but there were workshoppees from Sheffield, Hebden Bridge and Oxford, as well as Helen herself all the way from Munich. (Not that geography has a habit of stopping her: have a look at www.make-shift.net).
We mashed up on Pirate Pad and brainstormed the nature of immersivity and jumped around online to discover more resources than you could imagine. Sarah had brought along some of her exquisite hand-made and limited edition pamphlets to open up non-digital possibilities, and we all went off to try things out, throw ideas around, and come up with outline plans for events using some or all of the techniques we'd discussed.
As with last week's workshop, we had leaders who were experienced in their field and generous in sharing their expertise. The format was open enough to facilitate a wide range of exploration, and ran smoothly towards its end stage, the presentation of our projected schemes, each including three actions to carry out over the week ahead. I'd already honoured the collaborative nature of Tales from the Towpath by messaging a potential partner by the time we wrapped up, and the day finished with a mass swapping of contact details. All in all, a fabulous addition to the Festival programme. More, please!
You can still access the story part of Tales from the Towpath via the website: www.talesfromthetowpath.net. The zaps will be available until the end of the year, and the geocaches are permanent. All of the story elements will be available online at the end of November.
_
Sarah Jasmon is a writer who lives on a boat. Blogging for the MLF is one of her favourite things to do, but she also has a debut novel, The Summer of Secrets, coming out next year. Come by and visit at www.sarahjasmon.com or @sarahontheboat.