MLF Chapter & Verse
The Manchester Literature Festival Blog
Review: The 2014 Blog North Awards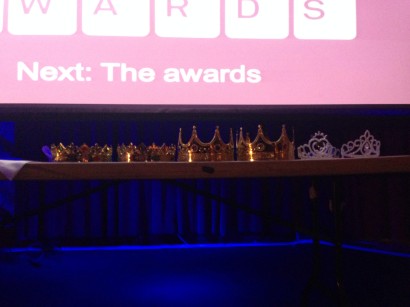 Festival blogger L.J. Spillane reviews the 2014 Blog North Awards at The Deaf Institute on 8 October…
I'm in the upstairs room at The Deaf Institute, under a huge mirror ball that is hanging from the ceiling. That's when I meet Mollie [Simpson]. She's here to read extracts from her popular blog 'If destroyed still true'; it's all based on the diary entries of her teenage self. Very, very brave. I can see why Mollie's work is nominated for best personal blog. The title alone brings up a forgotten slice of school minutiae I haven't thought about in years.
Kate Feld is our stunning host, and tells us how it's all going to go. There are readings from a selection of tonight's nominees, followed by the announcement of the award winners later on. Kate then introduces Flashtag, a writing collective who met at the previously named Manchester Blog Awards in 2010. They perform what I can only describe as a comedic, literary conga of short stories and brainteasers.
Flashtag are followed by Food Legend blogger David Bailey's  video. It's weird. I don't think I'll ever look at the Mustached Man on the front of a Pringles tube quite in the same way again. Think random narratives concerning savoury snacks, Mustached Man's freaky voice-over sitting comfortably, or uncomfortably, in that space between Frank Sidebottom and Pinhead from the Hellraiser franchise.
Then Mollie Simpson steps up to share all, from panic about spots, to a love rivalry over an exotic Cumbrian called Dougie, and everything you'd forgotten about being thirteen in between:
"I woke up and I had the word 'fallopian' stuck in my head. I said to myself I'd find out what it meant later. I did! Urgh! Bye x"
"Rat bastard!" exclaims bellinijar blogger Lauren Vevers. These are the first words to her short story about a guy she dated who wasn't very nice. And then there's Matt Hooper, the reluctant reprographer who tells hilarious stories about his experiences at work and calls himself General Lucifer. And Kevin Boniface, the postal worker who writes about his day to day experiences, and who part way through a very funny Little Britain-esque description reassures us:
"It's alright Huddersfield, really. I'm making it sound bad."
Before the winners are announced, the headliner Claire Dean reads her specially commissioned story for the evening called 'Pomona Fair'. The story was inspired by a post about Pomona on Skyliner blog, and re-envisages Pomona's future.
Kate Feld makes good her early evening promise. It's the end of the night and it's time to make a big fuss over the blog winners. As each winner is applauded, they are decorated with a Blog North Awards 2014 sash, and left to mull over the choice of crown or tiara. (There is no gender bias here.) Do you want to know who won what in the end? Have a look here.
Bye x
_
About the writer: L.J.Spillane waffles on here: www.ljspillane.com and here: @LJSpillane. Curb your despair, she's learning the value of good editing.
Watch Best Personal Blog winner Mollie Simpson reading from If Destroyed Still True: