MLF Chapter & Verse
The Manchester Literature Festival Blog
Review: The Writing Squad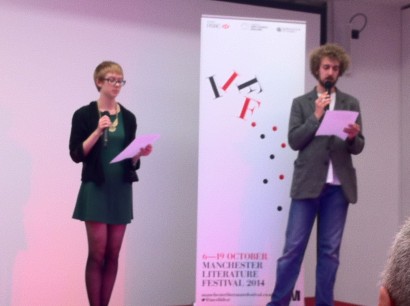 Festival Blogger Kate Ashley enjoys a lunch hour spent with two ambitious young writers…
Since 2001, The Writing Squad has been offering young writers a two-year development programme to launch careers in fiction, poetry and spoken word. Students continue to benefit from professional advice, opportunities and support long after they have 'graduated'. As part of the Manchester Literature Festival 2014, two members of The Writing Squad performed a 35-minute piece that was as ambitious as it was dark. It's not every lunchtime that you get to hear about how best to wring a pigeon's neck.
Lenni Sanders and James Varney took to the stage to read in turns and in chorus, with their lines overlapping and finishing each others' sentences. The content ranged from the mundane – a train journey, a laughing taxi driver – to the thornier themes of identity, meaning, and getting lost.
It was funny and trivial and profound and violent. Thoughts about peeling off your own skin followed observations about relationships, and runners in gyms. The whimsical and absurd was rooted in reality with place names and public transport. Particular lines and themes stood out as especially lyrical; 'I have wondered what it is to breathe', and a question about which side of the aquarium we are standing on.
While the text was clearly too long and complex to memorise, the performance came across best when Lenni and James looked up from the reams of paper, and into the eyes of the audience. As each page finished, it was discarded to the floor, lending a touch of disaster to the stage.
It was when both writers spoke together in perfect synchronisation that it jumped to another level. Precise and powerful, it made you sit up and take notice, believing that you were witnessing something incredible. It would have been nice to hear a little more about the Writing Squad more generally, or for the performance to be followed by some form of discussion. But I'll certainly keep an eye out for their work in the future.
_
Kate Ashley writes fiction and non-fiction. She is currently working on a travel memoir and trying to get over stage fright to do more spoken word. www.kookooburratravels.wordpress.com and @kateashley1