MLF Chapter & Verse
The Manchester Literature Festival Blog
Review: David Mitchell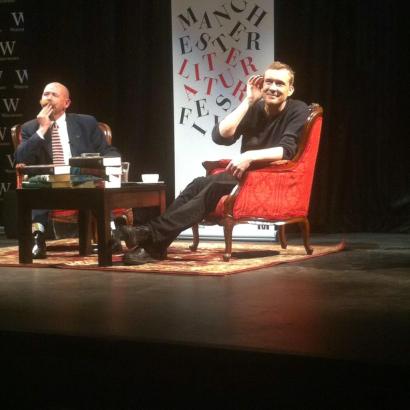 Festival Blogger Robert Cutforth takes an unconventional approach to reviewing the David Mitchell event at RNCM: an imagined letter from the author to reviewer – fitting, as Mitchell advised aspiring writers to write letters to themselves from their characters to learn about them. (This letter is not actually from David Mitchell, just to be perfectly clear.)
Dear Robert,
Or is it Rob? I know you folksy Canadian types have a penchant for hypocorism (You called me "Dave" in your letter) but I find doing the same gives me indigestion. Oh, what the hell, I'm at the end of my press tour for The Bone Clocks so I'm feeling cheeky. Rob it is.
In your letter, you mentioned that you saw me reading from The Bone Clocks at the RNCM, but because your portable recording device died, you can't remember a thing I said and thought it might be useful if I wrote you to repeat everything I said during the talk. It was an odd request—not to mention rude—but as I say, you've caught me in a good mood.
In particular, you wanted me to go over (for a second time) what makes a good character. As I mentioned last Thursday, I write letters to myself from my characters in order to get to know them better. They tell me about their formative childhood experiences, things they think about, class, ambition, money, all that sort of thing. A writer must do more than simply observe his characters, one must inhabit them. Also, it doesn't hurt to be a bit meta, does it? I'm asking you a question. You. No, not Robert, you, the person reading this blog post. I am talking directly to you. Hi. Nice shirt.
What other things? Oh yes. Treat your regular readers with a good deal of respect and reward them for their loyalty with little bits of what I call "mental furniture". I know you've only read one of my books (the big one) so this doesn't apply to you… in fact, why am I writing to you again? Ugh, nevermind, I've come this far, I may as well finish… Mental furniture is the stuff crammed into my anti-Tardis-like brain that can't help but find themselves into all my books. Talking Heads, Alain-Fournier, cats etc. There is nothing wrong with giving a bit of yourself to your readers; you're an artist after all, not a mechanic.
Don't get upset when you're compared to Murakami or been outed as a massive fan of Dr Who. Embrace the backhanded compliment "storyteller" the snooty types will put on you for writing anything a bit "out there". Wear your Booker losses like badges of honour.
When doing a reading, leave them on a cliffhanger. Which reminds me… I have a book out. It's called The Bone Clocks. It's similar in style to my other books in that it's a bit epic, but delivered in digestible chunks, it treats time like an infant's plaything and well, you'll just have to read it to find out more.
I hope that jogs your memory a bit, next time perhaps instead of attempting to illegally record my talk, you bring a pad and pen.
Yours,
David
PS If you write anything in your piece about Crispin Hershey even remotely resembling Martin Amis, I will kill you.
_
Robert Cutforth is a foreign writer living against his will in South Manchester. His articles have been published widely in magazines and newspapers in the UK and can be found on his website robertcutforth.com. He is currently pursuing an MA in Creative Writing and writing his second failed novel.