MLF Chapter & Verse
The Manchester Literature Festival Blog
Review: John Lahr on Tennessee Williams; Cat on a Hot Tin Roof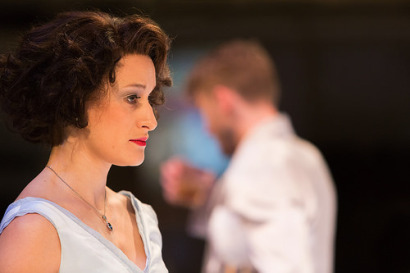 Festival blogger Charlotte Rowland enjoys an evening of two halves: a talk with John Lahr about American playwright Tennessee Williams and then a performance of one of his most celebrated plays at the Royal Exchange Theatre.
If there is one word that the dramas of playwright Tennessee Williams do not spell out, it is victory. Brutality, masculine aggression, feminine despair, confrontation, deception and a denial of truth persistently haunt Williams' scripts, and as much as the characters and secular monologues of his plays raise their voices to elicit these themes, they also speak for the need for silence, and the complex emotions we each internalise.
Perhaps it is as a consequence of this that theatre critic John Lahr's biography, 'Tennessee Williams: Mad Pilgrimage of the Flesh', invariably highlights how and why Williams wrote. Talking about his book onstage at the Royal Exchange before a performance of Cat on a Hot Tin Roof, Lahr makes it immediately apparent how striking Williams' evolving consciousness was. Williams' aim, claims Lahr, was to 'project the self', and his motive for this, responding to his own self-consciousness was to allow the value he placed on thinking to resonate.
Establishing the periphery between inner thoughts and external consequences can be difficult, but tonight's take on the fraught, anxious family of 'Cat on a Hot Tin Roof' achieves it by using setting and props to navigate through the social tensions. Set in a stagnant, white-pristine room, the play imposes an introspective regime and enforces the lack of progression the play enacts. Mirrors, bed linen and creased dresses are used to convey feminine seduction and allure, while the liquor counter, along with the 'silk pyjamas' Brick, played as a troubled, undemanding spouse, refuses to wear, challenge the conventions of marriage, and represent the destruction of self Williams wrote of so consciously.
The question, then, is not how much of the self can be maintained in the face of drama, if any, but, rather, how the self can be inserted into drama in a way that maintains the self naturally. Helpful to note, too, that Williams' phrase, 'cat on a hot tin roof', comes from his Father. 'Williams destroyed himself for meaning', asserts Lahr, 'and even that is in his plays'. Containing the self, then, as Lahr suggests, asks you to use language to replace yourself, and demands you make a sacrifice so that art may triumph.
But, as tonight's fair yet strident Maggie, arms open and raised, as if in hope of reaching, quite literally, for answers, asks, 'what is the victory of a cat on a hot tin roof'? The victory is this: That, when a play meets an audience on its own terms, expanding on the themes inherent within it to draw out a response, the very form of language itself begins to speak. 'Nothing's more determined than a cat on a hot tin roof', claims Williams' potent line. 'Williams wrote plays', concludes Lahr, 'because he sought an embrace with his audience'. The victory is in overcoming fear, eliminating anxiety and trusting that the mundane elements of the everyday are enough, when given new contexts, to make drama. And drama that is successful and self-fulfilling, at that.
_
Charlotte Rowland is a writer and arts promoter currently undertaking a project on the likeness of photography to language. She works at the Whitworth Art Gallery and studied an MA in Creative Writing (Poetry) at the University of Manchester. Examples of her writing can be found in The Manchester Anthology, Black & Blue and via her own blog: http://www.floralengravings.blogspot.com
Image: Courtesy of The Royal Exchange Theatre