MLF Chapter & Verse
The Manchester Literature Festival Blog
Catching up with our Festival Directors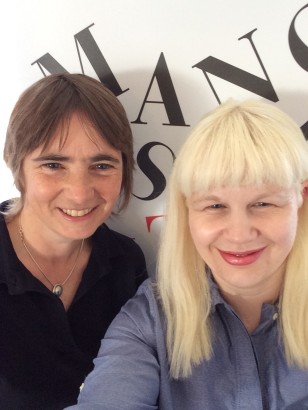 If we've gone a bit quiet on the blogging front, it's because we're busy at work finalising our tenth anniversary programme. We grabbed a few minutes with Festival Co-Directors Sarah-Jane Roberts and Cathy Bolton to ask them about what the day-to-day work of running the Festival is like, what inspired their love of literature and what we can expect from MLF15…
This will be the first year the Festival has had co-directors. What are you both responsible for?
We're responsible for everything from programming and delivering the Festival to developing strong relationships with authors and publishers, partner organisations, sponsors and funders, venues, chairs and trustees. We also oversee all the aspects of the Festival from the design of the brochure and website to our press, marketing and development. Our roles are constantly expanding and we're always thinking of ways to challenge ourselves and reach new audiences.
What are you working on right now?
The mammoth task of programming 70 – 80 events and bringing them together into one exciting, cohesive programme. Most of our Commissions and Main Events have been confirmed so we're currently fine-tuning our Literary Reputations, Rising Stars and World Literature strands.
What brought both of you to work in literature?
SJR: I've had a huge passion for stories, reading and writing ever since I was a kid and my family read me 4 to 5 stories each night from Where The Wild Things Are to Alice in Wonderland. I believe a beautifully crafted story, novel, poem or essay can transport you to another place and make you see the world through someone else's eyes.
CB: Likewise I grew up with a passion for books, our family were avid library goers and I spent my youth working my way through Ormskirk Public Library's A-Z of Fiction. I started writing poetry as a teenager and worked for many years as a creative writing development worker at Commonword community publishers before joining the Festival.
What are your favourite things about the job?
Discovering new writers, curating special events, commissioning new work, collaborating with publishers and partner organisations, and thinking of new ways to platform and present work. We also love the actual Festival itself and the feeling of exhilaration/exhaustion running from one event to another. We consider ourselves incredibly lucky to work with colleagues that are equally obsessed with imaginative writing and the arts.
Any special plans for this year's Festival?
It's our 10th anniversary so we're planning lots of special events to celebrate. We've invited lots of Festival favourites from Margaret Atwood to Jeanette Winterson to return and talk about their latest books. We also have some unique, intimate events like folk singer Kathryn Williams performing a spellbinding collection of songs inspired by Sylvia Plath's The Bell Jar in one of the city's loveliest venues.
When will the Festival programme be announced?
In August, and Get Closer Members will of course get the chance to book advance tickets.