MLF Chapter & Verse
The Manchester Literature Festival Blog
Q&A: Laura Dockrill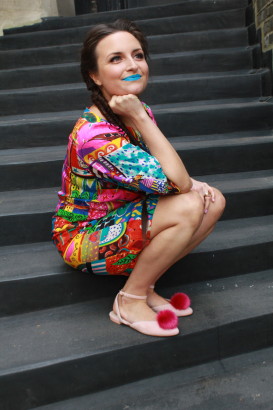 Laura Dockrill is the author of the Darcy Burdock series, as well as Mistakes in the Underground and Ugly Shy Girl. Her new book for Young Adult readers is mermaid coming of-age tale Lorali. She's a prolific writer, performer and artist whose work takes in a wide variety of artforms and audiences. Michael Rosen said of her work: 'Wow, what a stormer! It's wonderful to have the voice of someone as young and as funny in the children's books world.' We talked to her ahead of her appearance at our Rebels and Outcasts YA event at this year's Festival.

You first had success as a performance poet for years before publishing YA novels; what prompted the change? And how do the different strands of your work — writing and performing poems, novels and illustration — all fit together?
There came a natural end to my performance poetry only because I felt that the climb of the industry was tiresome and actually had a ceiling. Performance poetry is such a fluid art form that I think the public are afraid of it, and some promoters and art houses are often unsure how to provide safe platforms for it where the words and performance will be safe and valued. (THERE ARE SOME REALLY GOOD ONES TOO THOUGH DON'T GET ME WRONG). But I will never miss that nausea of never knowing how your whole art form is going to be received and that's before you've even stepped on to the stage and read your words out loud. It's an enormous amount of pressure. There were moments when I felt like I was speaking to the walls! You're living for those moments when, in a crowded room of strangers, one face might turn to you and say 'I got that.' So I feel happier in the place where I can take my time, stretch my language and play freely at my own (still really fast) speed. I guess they fit together because they all come from my head?
 
What writers have shaped and inspired you?
Roald Dahl, Eminem, Jacqueline Wilson, Berkoff, Maria Semple, David Bowie, Carol Ann Duffy, Edward Lear, Nigel Slater, Miranda July and the food writer Marina O'Loughlin
 
What books are on your bedside table right now?
Tanya Byrne's For Holly, Steve Camden's It's About Love and The Accident Season.
What do you do when you're not writing?
I am workshopping some plays for the theatre so it's REALLY NICE TO BE WITH HUMANS. I also do songwriting (but for actual singers not me; I sing like Simba from The Lion King) although I guess that's still writing! Drawing; I have 3 big canvasses that I am splattering onto when I get a spare half hour. If I get stuck in my writing I'll just go along and do a bit of scribbling on that. I do yoga. I chill with my pug, Pig. I love film and art and food and wine. There's so much to do in this world. There's no excuse to be bored.
It's our tenth anniversary this year so we're asking everyone to tell us: what was your favourite book when you were ten?
Jacqueline Wilson, The Bed and Breakfast Star. I got it signed last year by Nick Sharratt and Jackie and it pretty much was my most best day.
___
See Laura Dockrill read Lorali and take part in our panel discussion about the new Young Adult writing with Sarah Crossan and Julie Mayhew, on 17 October at 3pm at Central Library. Book tickets and find out more on our website.