MLF Chapter & Verse
The Manchester Literature Festival Blog
Q&A: Mai Al-Nakib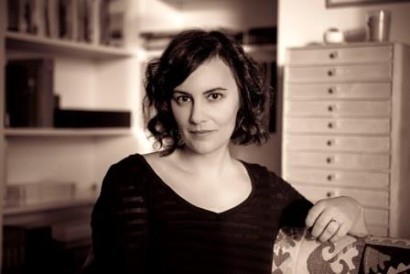 Kuwaiti writer Mai Al-Nakib's first book, the short story collection The Hidden Light of Objects is unforgettable. Imbued with a sense of childlike wonder and a vivid immediacy, the stories seek out the places where everyday life intersects with the unconscious and linger there. The book won the Edinburgh International Book Festival's 2014 First Book Award, and The Sydney Morning Herald said of it 'Al-Nakib writes with penetrating insight and such compressed lyricism that at times her prose seems to border on poetry.' Before her event in our Rising Stars programme, we talked with her about her writing and her life.

How did you begin writing short stories?
I've always known that I wanted to write fiction, but it took me more time to get to it than I had initially anticipated. My academic life got in the way. But once I committed to the idea that it was now or never, I thought short stories might be a more manageable form to begin with. While short stories may seem less unwieldy than the novel, they are differently demanding. They require focus, compression, and a kind of formal precision that is unforgiving. It's a compelling form that I return to, even in the midst of writing my novel. It keeps my writing sharp.
I'm really intrigued by your story The Diary. Do you keep a notebook yourself, and if so, what role does this play in your story writing?
I used to keep a diary religiously between the ages of 10 and 25. And by religiously I mean compulsively to the point of distraction. In some ways it was a draining process, diverting energy and time away from other potential writing. Now I write in my diary only sporadically. However, I do keep two writing notebooks—one full of general ideas for writing I hope to do in the future and another specifically devoted to the current project. The latter is indispensible to my writing-in-progress. It contains early ideas, ongoing notes, detailed outlines, timelines, scraps of dialogue, quotes from other books that strike me as relevant, everything. It's a bulging notebook I don't let out of my sight.
The presence of Kuwait is so strong in your stories it almost seems like another character.  Are there other writers whose work captures a place particularly well for you?
Salman Rushdie's Midnight's Children comes to mind immediately—that book put the "bomb in Bombay" for me. Ahdaf Soueif captured a particular image of Egypt in her novel, In the Eye of the Sun, that continues to resonate. Lately I've been reading Tove Jansson's novels and short stories, and the clarity of her language evokes the landscape of Finland, especially the island where she spent her summers. I could go on…
 What books are on your bedside table right now?
The Meursault Investigation by Kamel Daoud; Divorce Islamic Style by Amara Lakhous; and Alone Together by Sherry Turkle.
What do you do when you're not writing?
I teach comparative literature at Kuwait University. And when the weather starts to cool, you'll find me running along the corniche.
It's our tenth anniversary this year so we're asking everyone to tell us: what was your favourite book when you were ten?
Louise Fitzhugh's Harriet the Spy.
___
See Mai Al-Nakib (with fellow short story writer May-Lan Tan) on Tuesday 13 October at 6pm at the Anthony Burgess Foundation. Tickets are £6/34, book on 0843 208 0500 or via our website.