MLF Chapter & Verse
The Manchester Literature Festival Blog
Q&A: Polly Samson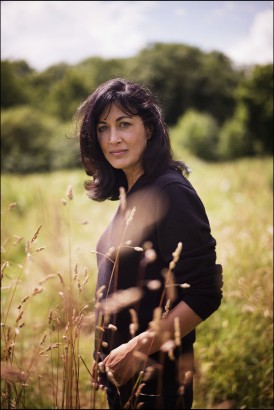 Polly Samson is the author of two short story collections including Sunday Times Fiction Choice of the Year Perfect Lives, and has written lyrics for three bestselling albums. Her new novel The Kindness was inspired by Milton's Paradise Lost and focuses on a couple who give up all they have to be together. The Independent called it 'a gorgeously chilling novel about grief and betrayal. We spoke to her in advance of her event at this year's Festival about writing and the books she loves.

You've written journalism song lyrics, short stories, the novel Out of The Picture and now, new novel The Kindness. How do you manage having all these different stands to your writing?

I manage by only having one thing in my head at a time.  The Kindness took four years to write and I didn't write anything else during that time.  The day I typed "The End" was the day I started writing lyrics for the new album. Songs that I've written in the third-person sometimes feel like short stories and in the first-person writing song lyrics is an act of empathy, rather similar to forming a character in fiction.  For a song to work the singer must believe what he sings.

What writers have shaped and inspired you?

I think the novels I read in the transition from childhood have probably been the greatest source.  Contemporary fiction has real purpose that is more than escape during those confusing years of early adulthood.  Alison Lurie, Elizabeth Jane-Howard, Penelope Lively, Angela Carter, Doris Lessing, Shirley Conran, Marilyn French, all women writers of strong female characters and I wolfed them down.  Daphne du Maurier has also been a great inspiration – no-one creates atmosphere and between-the-lines menace as well as she did.  

What books are on your bedside table right now?
True Grit, Paradise Lost (it's never not there),  Ernest Hemingway's A Moveable Feast, Anne Enright's The Green Road and a proof copy of Rupert Thomson's new novel Katherine Carlyle.

What do you do when you're not writing?

I take photographs, play guitar, walk, but mainly I think how much I prefer writing to not-writing.

It's our tenth anniversary this year so we're asking everyone to tell us: what was your favourite book when you were ten?

It's really hard to choose between Laura Ingalls-Wilder's Little House in Big Woods and Joan Aiken's A Necklace of Raindrops.
__
See Polly Samson read and discuss her work along with author Virginia Baily at the Portico Library on Wednesday October 21st at 6:30pm. For information and to book tickets visit our website. Image credit Sarah Lee.