MLF Chapter & Verse
The Manchester Literature Festival Blog
Q&A: Stuart Evers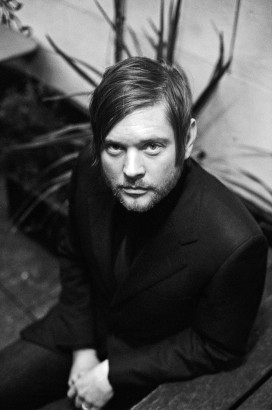 Stuart Evers' first short story collection, Ten Stories About Smoking, won the London Book Award and was praised in The Irish Times as 'touching, true and shocking. Here is a book that not only makes more sense of life, it delights the mind'. His novel, If This is Home, was published in 2012 to great acclaim. He returns with a new collection of short stories, which he'll be reading and discussing at our Rising Stars Day on 24 October. Before he comes to Manchester, we caught up with him for a few questions about his latest book, the authors that influenced him and what he does when he's not writing.
Your second collection, Your Father Sends His Love, is a book of stories about parents and children. Can you tell us how this theme emerged in your writing?
The day after my wife had her twenty-week scan for our first child, I was made redundant. The proximity of the two things sort of stunned me a little, and over the next few days I spent a lot of time thinking about not only my unborn child, but also my relationship with my parents, both back when I was a child and as it is now. The stories – though they are all very different – come from that place of uncertainty, the fear that you're doing something wrong as either a parent or child or both.
What writers have shaped and inspired you?
Too many to mention in any kind of detail, unfortunately. I first wanted to be writer after reading George Orwell, Keith Waterhouse, James Joyce and Emily Bronte; but it wasn't until reading Raymond Carver, Grace Paley, Junot Diaz and Haruki Murakami that I actually wanted to write. In the couple of decades since those discoveries, I have found so many writers who have made a considerable impression on me – Samuel Beckett, Muriel Spark, Harold Pinter and WG Sebald especially.            
What books are on your bedside table right now?
I always have a lot of books piling up all round the house, but by the bed at the moment there's a fascinating work of non-fiction by Darran Anderson called Imaginary Cities; Beatlebone, the new novel by Kevin Barry; a sublime collection of stories, Instructions for Cleaning Women, by Lucia Berlin, and The Trick is To Keep Breathing by Janice Galloway which is so good I can't bring myself to finish it.
What do you do when you're not writing?
I try not to think about writing or books. I usually fail. I usually fail in pubs with good beer.
It's our tenth anniversary this year so we're asking everyone to tell us: what was your favourite book when you were ten?
The NeverEnding Story. I had a hardback that looked like the book within the book and had two different colour inks – red and green – for the different worlds. I think I read it every night for a year.
___
Want to know more about the author? There's another great interview on the Picador site here. See Stuart read alongside author Mary Costello as part of our Rising Stars Day at MLF 15, on Saturday 24th October at the Anthony Burgess Foundation (2pm, tickets £4/3) – booking and full information on our website.