MLF Chapter & Verse
The Manchester Literature Festival Blog
Review: Anthony Horowitz at Central Library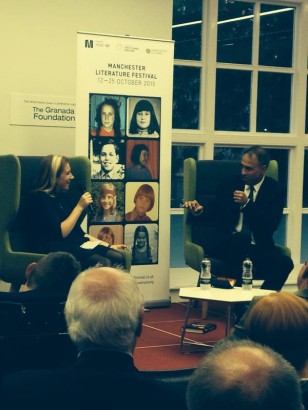 Festival Blogger David Hartley sees the much-loved author of books for children, young people and adults launch his new James Bond novel in one of this year's Preview events.
Fresh from a mild media tussle, a cheerful and engaging Anthony Horowitz took to the performance space in Manchester Central Library to talk all things 007. His new release Trigger Mortis is the latest officially-sanctioned James Bond novel which sees Horowitz join an exclusive club of authors who've accepted the mission of taking up Ian Fleming's spiritual pen. Unlike Sebastian Faulks, Jeffery Deaver and William Boyd before him, Horowitz's credentials seem to fit as snugly as a camouflaged wet-suit: his hugely successful series of YA novels featuring spy Alex Rider must have made him a blindingly obvious candidate for the Fleming estate.
And in answer to the first question posed by interviewer Viv Groskop, Horowitz drops a thrilling bombshell: Alex Rider is the spiritual son of Honeychile Rider, immortalised by a sea-exiting Ursula Andress and her conch in Dr No (1962). Horowitz recalls the film with infectious enthusiasm and how, like many others of his generation, he then became hooked on Britain's most iconic super-spy.
Bond is typically a tricky subject to tackle, not least because opinion among Bond fans and critics often varies so wildly. Connery, Moore or Craig? Suave action hero or emotional wreck? Novel Bond or film Bond? Horowitz clearly has a reverence for Fleming and an admiration for the films, but he never had any doubts that his novel would be as infused with Fleming as he could make it. This sets him apart from Deaver, whose contemporary Bond in Carte Blanche avoided mimicry and aligned closer with the Daniel Craig Bond of the current run of films. Trigger Mortis is a novel for Fleming fans by a Fleming fan  – which will certainly please a lot of readers, but ushers in a whole set of its own challenges.
Strong early reviews suggest that Horowitz has risen to his mission. Trigger Mortis (love the title by the way – Fleming always had time for a good pun) is set in 1957 against the backdrop of the Korean War, two weeks after the events of Fleming's Goldfinger. The novel sees the return of Pussy Galore, the one love interest who always seemed a little more complex than the average 'Bond girl.' Horowitz is keen to tackle the subject of Galore head-on. She is, in no uncertain terms, the fierce and defiant lesbian who is 'turned' by Bond in Goldfinger – the sort of attitude that Horowitz rightly says 'just doesn't fly anymore.' Sadly we get no more details, but it is a tantalising glimpse of a possible Pussy Galore redemption.
After a brief reading of an early passage it is clear to everyone gathered that Fleming's Bond is in safe hands. Horowitz's boyish enthusiasm for the world of 007 is charmingly obvious and the author is busting with ideas for future adventures should the Fleming estate give him another nod. And, according to Horowitz himself, the signs are good: his greatest compliment so far has come from Lucy Fleming, the great man's niece, who said of the book; 'this could've been Ian.' Perhaps, after all, somebody has done it better…
David Hartley is a Manchester-based short story writer and performer. He tweets on @DHartleyWriter