MLF Chapter & Verse
The Manchester Literature Festival Blog
Review: Margaret Atwood at The Royal Exchange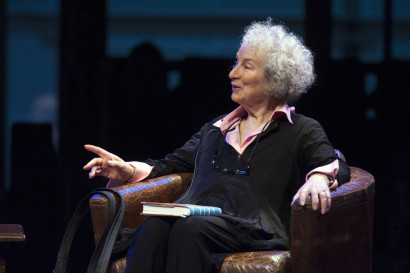 Chapter & Verse's Canadian Literature correspondent Robert Cutforth enjoys a characteristically dry and intellectually stimulating afternoon in the company of the far-seeing author, our Patron Saint of The Future.
When the Manchester Literature Festival first announced that Margaret Atwood was coming to town, I knew it would be popular with other reviewers, so I bagsied it straight away. I imagine the others were annoyed it was taken off the table so quickly, but I'm Canadian, I write dystopian fiction and I know what a LongPen is. When Nigel McMancman comes to the Royal Exchange to talk about his book on the Peterloo Massacre or The Stone Roses, it's all yours. This one was always going to be mine.
The talk, hosted by Erica Wagner, starts in typical Atwoodian fashion with a story about why the locks of hair pictured on her school photo on the MLF poster are kept in a box in her sister's cellar. A story that threatens a creepy account of some sick family ritual, but is revealed instead to be a lovely story of a mother keeping a memento in mourning of the end of her daughter's childhood.
The anecdote perfectly echoes the storytelling in her novels. The concepts within her works of fiction seem absurd at first but are easily relatable because of their strong attachment to the real world. Atwood has famously never been comfortable with her books being classified as "science fiction" because of her insistence that the concepts contained within could actually come true. Her comments on the subject famously ruffled the feathers of the science fiction community, but many of the things she's written about (terrorist attacks, world ending pandemics, a planet destroyed by corporations or women sold into sex slavery in the western world) have since become so commonplace, that they can barely be called fiction, let alone "science" fiction. When she first stepped onto the stage, I half expected her head to be an actual crystal ball.
Her reading was from her current novel, The Heart Goes Last: a section in which a male, overweight sex robot hilariously attempts to mash his body into a too small Elvis Presley costume before locking himself into a box for shipment to Las Vegas. Read that bit again. If that doesn't make you want to read this book, then I almost feel sorry for you.
According to Atwood, the book's main premise centres on a private prison that people volunteer to enter. It seems a strange idea at first, but as she explains, white bedsheets and a hot meal sound pretty good when society has deteriorated so badly that most people have lost their homes and are now living in their cars. You have to look no further than your own city to see her point. Have a look at the filthy sleeping bags and tents of the men and women who currently call Oxford Road home. Now imagine them in February when the temperature drops to single figures and it's pissing down. It isn't much of a stretch to imagine someone living in those conditions to find themselves knocking on the door at Strangeways, begging to be let in.
The talk was brief—delivered in her desert dry, Canadian monotone—and it intermixed serious subjects such as the plight of the Haida people and third wave feminism with stories about Chatty Cathy dolls, parrot alarm clocks and men who have sex with furniture. In other words, textbook Atwood.
Her most interesting answer to a question centred around the state of feminism today and her contention that it is going in the wrong direction. She had particular praise for The Girl with the Dragon Tattoo's strong feminist message, but tempered it with the observation that had that book been written by a woman, she would have been painted as the "most ferocious man-hater imaginable". Again, you have to look no further than the GamerGate "controversy" or the Twitter abuse aimed at women such as Mary Beard or Lindy West to see that this is true. If we've learned anything from social media—and the constant abuse the women who have the nerve to use it receive—it's that feminism is needed now more than ever. Margaret Atwood's novels and her Twitter prowess make her a great ambassador for the cause, but it is really up to all of us to help her carry that torch. It's a heavy one and her back isn't what it used to be, the woman is 75 for God's sake.
_
Robert Cutforth is a foreign writer living against his will in South Manchester. His articles have been published widely in magazines and newspapers in the UK and can be found on his website robertcutforth.com. He is currently pursuing an MA in Creative Writing and writing his second failed novel.