MLF Chapter & Verse
The Manchester Literature Festival Blog
Review: Steven Pinker, The Sense of Style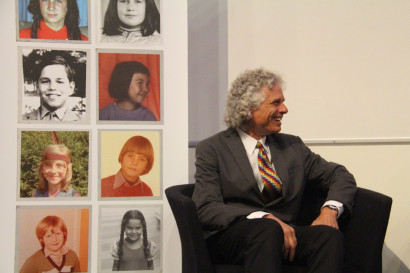 Festival blogger Jonti Dalal-Small enjoys a candid and illuminating evening with author and Harvard Psychology Professor Steven Pinker, the first of our Preview events for 2015
The last time I saw cognitive theorist Steven Pinker speak, he was in conversation with Rebecca Goldstein, a philosophical novelist. She is also his wife. They formed quite a double-act, exploring 'Reason, Fiction and Faith: Are any of the arguments for the existence of God any good?'
It was a heady experience. Intellectually, the ideas were stratospheric but it was a very human conversation. Understandable. Accessible but not patronising. There was no boasting, no bamboozling. The lasting impression of Pinker was of an empathetic person who tries to communicate his thoughts by showing them to other people. In his new book, The Sense of Style, he seems to have turned this very characteristic into writing advice.
At Manchester University, Pinker was introduced as an "academic superstar". But again there was no pretension or condescension, as he spoke about his book, in which Pinker uses his cognitive science and linguistic expertise, and crucially, his empathy and commitment to clarity, to convey how to write well.
Anyone expecting a prim primer on good style will have been disappointed.
For Pinker, the "single best explanation" of why good people write bad prose is "the curse of knowledge" – the difficulty in imagining what it is like for someone else not to know something that you know.
With vivid, amusing and well-chosen examples and illustrations,  he took us through cliches, mixed metaphors, 'zombie nouns' and unnecessary passives, and many more features of bad prose – helping us to see just what is wrong with them.
Developing a sense of style is not, for him, about memorising dos and don'ts. More fundamentally, it is about having a conversation with a reader and directing their gaze to something in the world. There is nothing innate or natural to writing and to do it well is a craft. The key is to approach writing as we naturally and instinctively speak.
We may quibble and say that speaking as clearly and entertainingly as Pinker is not something that comes naturally to many of us. And he probably would agree. After all, in describing his writing processes, he says that when he reviews a draft, he all too often finds himself thinking, "Who wrote this crap?" His talk at the Literature Festival was doubtless artfully crafted to feel  as much like a conversation as a welter of PowerPoint slides to 400 people can.
Jonti Dalal-Small is a Manchester-based business psychologist.
___
Image: David Mclenachan