MLF Chapter & Verse
The Manchester Literature Festival Blog
Review: An Evening With Carol Ann Duffy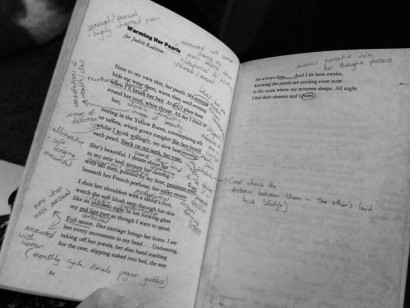 Abi Hynes enjoys an audience with Carol Ann Duffy, discussing poetry, writing and life.
This was my first encounter with our delightfully local Poet Laureate, despite the fact I've been a fan since I was a teenager. She was the first poet I studied at school that I felt any sort of connection to; perhaps, thinking back, because she was probably the first living poet I'd spent any time reading. I remember, in particular, being sixteen and totally mesmerised by the sapphic sensuality of Warming Her Pearls. No surprises there, then.
The Sunday evening in Hallé St Peter's was a surprisingly warm affair, thanks in no small part to Rachel Cooke's affectionate, low-key hosting and interview style. Despite the packed-out hall, her chat with Duffy – interspersed with readings of poetry that encompassed pieces from her earliest collections to her latest works – gave me the feeling of sitting, childlike and in awe, in the poet's living room, listening to the fascinating chatter of the grownups and staying quiet to avoid being sent to bed.
It will probably surprise no one that, in conversation, Duffy was candid and generous, without at any point compromising herself in an effort to please. Cooke's fleet-footed interview covered an impressive amount of ground. I greatly enjoyed Duffy recounting some of her formative experiences with literature; her three or four library trips a day, using her brothers', and then her parents' library cards, which continued until her father caught her looking for rude bits in The Well Of Loneliness. And then there was her ridiculously charming story of the junior school teacher who collected her first poems, typed them out and presented her with a printed version bound together with a shoelace: 'Seeing it in print, rather than in my own handwriting, I felt a new distance from it. Like it was being pushed away from me in a boat.'
Everyone's favourite moment, I'm sure, was her Margaret Thatcher impression during her reading of the very funny Weasel Words. And I was struck by the way the interview managed to balance tender moments of her personal history ('I wrote Prayer thinking about my mother calling me in – now I read it thinking about my daughter') with sweeping reflections on the state of contemporary poetry and its role in the world: 'I see the role [of the poet] as putting that smaller but more forceful use of words into the babble of general noise we have to endure.'
And she read Warming Her Pearls – just for me, of course.
In theory, the event was supposed to be in honour of Duffy's Collected Works (brought about by the 'hideous autobiographical fact of turning sixty'), which – due to printer troubles – were actually absent. It didn't matter a bit. It was an insightful and beguiling evening spent in good company that left me heading for home all fuzzy-round-the-edges.
On a side note: serious props to the very hard-working roving mic guy, who ran the length of that hall several times to keep the Q&A on its toes. Nicely done.
___
Abi Hynes is a drama, fiction and poetry writer. She runs First Draft cabaret collective and theatre and film company Faro Productions. Follow her on Twitter: @AbiFaro
Image: the writer's copy of 'Warming Her Pearls' annotated with her A-Level notes, courtesy of Abi Hynes.