MLF Chapter & Verse
The Manchester Literature Festival Blog
Review: Care Santos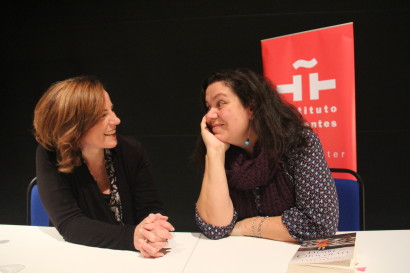 Young Digital Reporter Elizabeth Gibson devours a delicious event with Spanish author Care Santos at Instituto Cervantes.
There is something about chocolate. Its perfume, its allure… So strong is its charisma that it has enchanted many writers to weave it into their stories, such as Mexican classic Like Water For Chocolate by Laura Esquivel and Joanne Harris's Chocolat. Tonight, at Instituto Cervantes, another chocolate-loving writer, this one Catalan, was to introduce to us her award-winning novel Desire for Chocolate.
Care Santos has a wonderful presence, warm and bubbly. With just her and Mariana Casale O'Ryan, our hostess and interpreter, on stage, there was a cosy, intimate feel to the event. Care read a passage half in Catalan, half in Castilian and Mariana repeated it in English. As part of my degree in French and Spanish I studied Catalan for a year. It is one of the most beautiful languages I know – like chocolate, it is rich and sweet. To hear Care read in it was lovely.
Desire For Chocolate incorporates three different narratives in three different centuries. All three focus on women, chocolate and Barcelona. The Catalan capital is one of my favourite cities, diverse and ever-changing with its own unique vibe, so it was interesting to learn how it has changed through history and wonderful to hear how Care loves it, too. Mariana's reading was also very powerful, capturing perfectly the flavour of the highly evocative passage.
After this taste of the book Mariana chatted with Care about the writing process. I was intrigued to learn that Care felt the need for a kind of mathematical symmetry in her book in terms of chapters; the first narrative has four chapters and the second eight so she felt the third simply must have sixteen. However, after reaching fourteen she had trouble extending the story over two more chapters. She then realised that one characters' story arc hadn't been finished and voila, the last two chapters were there.
The discussion was then opened up to the audience and somebody asked about translation. Care spoke about how she prefers to translate her own books between Castilian and Catalan so that the translation preserves her personality. We then had the opportunity to buy Desire For Chocolate and Care signed my copy in Catalan. We also had the chance to see the artwork of Mexican artist Raul Loya, whose exhibition opened that night in the same room.
Overall it was another fantastic evening at the Instituto Cervantes and the Manchester Literature Festival. On the way home I bought a chocolate ice-cream – in October, I know – to celebrate the wonder that is chocolate and how it inspires people.
___
You can read more of Elizabeth's writing here.
Image: David Mclenachan