MLF Chapter & Verse
The Manchester Literature Festival Blog
Review: Iain Pears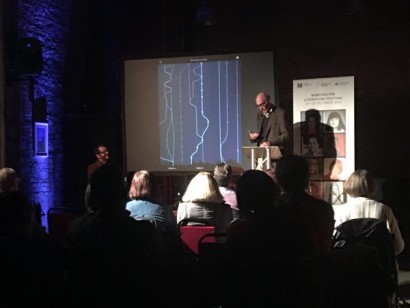 Kate Woodward explores interactive fiction in the company of Arcadia author Iain Pears
Manchester was grey and wet, and it was a delight to escape into The International Anthony Burgess Foundation – the welcome was warm, as always. Burgess himself was a man with diverse interests: a novelist, playwright, composer and journalist and it seemed appropriate that the Foundation should be the venue for an evening of conversation with Iain Pears, a man who is similarly difficult to label.
With David Gaffney acting as host, Pears soon had the audience hooked. An art historian, journalist, and novelist, Pears has proven with his latest venture, Arcadia, to be inquisitive, forward-thinking and bold. Few writers would have the courage to embark on what he honestly, and with self-deprecating humour, described as an experiment. Even fewer would have the tenacity to stick at it. Arcadia is designed to be read using an app. Pears battled software developers, publisher's doubts and an editing nightmare to bring a massive 250,000 word, ten-strand story to the reading public, all without knowing whether there was a market. His aim was simple – to change the reading experience by allowing readers to pick their own route through a novel.
Pears is known for his complicated narrative structures. These, he admitted, have caused annoyance to some readers. Unwilling to sacrifice the complexity and length that are his style, with Arcadia, he has created something that will make the reader work as little as possible, whilst still providing a three-dimensional effect. No one knows how many versions of Arcadia readers will find. No two readers will enjoy the same novel. It's different and it's brave. Writing a digital novel that doesn't rely on gimmicks, gaming or tricks is untested, but it could be the next big thing. Pears referred in the discussion to younger readers and the way in which they consume information, taking multiple sources and small chunks and stitching them together into a coherent whole. Perhaps Arcadia, with its short sections and its diverse story threads, is the ideal reading experience for those who have grown up in the digital age.
The audience had plenty of questions and the publishing industry should be asking the same ones, but one intrigued me the most – will Pears do it again? He says not, and it was easy to believe him. Even if Arcadia proves to be the start of a revolution in digital publishing, Pears will have moved onto something else. No doubt something challenging, and no doubt something equally fascinating.
It was still raining when I left the venue. I walked through the streets of Manchester, past cars trying to get out of the city amid the chaos of road-works, engineering and a Champions League fixture. Right then, I wished I had an app that could offer me an alternative route. I think Pears is onto something.
__
Kate Woodward was born in 1961 in Lancashire. She has worked as an accountant, a farmer and a market trader. Now she writes. She has published short stories in The Ogham Stone, Brittle Star, online and on her own blog at spugletspeaks.co.uk
Image: Courtesy of International Anthony Burgess Foundation