MLF Chapter & Verse
The Manchester Literature Festival Blog
Review: Jeanette Winterson at The Royal Exchange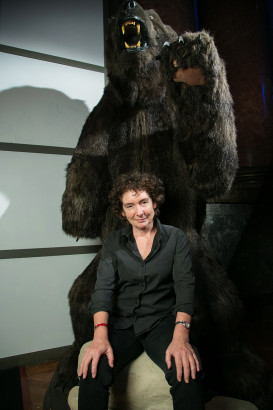 Festival blogger L.J. Spillane finds magic and mystery in an evening at the theatre with Jeanette Winterson, discussing her recent remix of A Winter's Tale. Enter author, pursued by a bear…

I'm sitting at the edge of the set for The Royal Exchange's production of The Crucible; it's a large ceramic bowl. Water fills it at the end of the play—symbolism for the dousing of witches? I hear Arthur Miller's play has been remixed for the modern world of paranoia, and the surveillance protecting us from our new witchcraft. Jeanette Winterson strides from backstage and into the pit, and we clap fiercely.
In a theatrical and engaging address, Jeanette Winterson gives us a 101 on Shakespeare's The Winter's Tale, cleverly illustrating parallels between the centuries old play and the modern world. She tells us that in 1604 the new King of England, James I, passed the witchcraft act, making it an offence punishable by death to conjure a spirit.
"We're on the set of The Crucible," says Winterson, "it's meant to be!"
In 1611, The Winter's Tale is performed in London for the first time. At the end of Shakespeare's play, the King declares "if this be magic, let it be an art lawful as eating", as his dead Queen returns to life. It's only one year away from the most famous witch trial in history -The Pendle Witches, which Winterson wrote of in novel The Daylight Gate – these women were hanged then burned. Why is Shakespeare taking a risk with a supernatural element? He's remembering how difficult it is to explain all experience with the five senses, and that this play needs a magical intervention in order to bring it to its conclusion, says Winterson.
The play centres around Leontes, King of Sicily. He invites his old friend, Polixenes, to stay with him instead of returning home. On failing to convince his friend, Leontes asks his Queen, Hermione, to persuade Polixenes. She succeeds (she's beautiful, Polixenes cannot refuse her). It is only coincidence that Polixenes has been staying with the King and Queen for nine months, and Hermione is about to give birth. But Leontes reads the situation as irrefutable proof of betrayal. Hermione is dragged to court, and Leontes wants Polixenes dead. Winterson points out the familiarity of the scenario—a constant on Fox News—a man discovers his girlfriend sleeping with this best friend and guns them and the children down.
During the ensuing destruction, Leontes' only son dies, as does Hermione, and Leontes banishes his newly born daughter, where she is found in Bohemia by a shepherd. "She's an immigrant," says Winterson, "she has no papers and doesn't belong here. She only made it through border control." Winterson goes on to explain that it was the details of her own life that drew her to The Winter's Tale: "It has a foundling in it, and I am a foundling."
Moreover, the author says forgiveness is becoming more important to her as she gets older, and this is a major theme of the play. In one moment, Leontes loses his friend, his wife and his children. It takes 16 years to put that right. Winterson reminds us of Freud's idea—we can redeem time by going back to places and understanding them differently. In Shakespeare's play, Hermione is brought back to life and her daughter returns. Both females stand as a defence against what male rage can do, as a symbol of what patience and love can offer. "Forgiveness allows a life to go forward," says Winterson, "and it takes time to action."
Winterson invited us to consider the possibilities for her 'cover' of the play. She required a character who believed he could buy his way out of trouble, someone who could do whatever he liked—she made Leontes into Leon, a banker. As the laughter in the auditorium dies down, Winterson reads from The Gap of Time, then answers questions from the audience. Her ensuing statements can only be described as a sort of democratic and artistic mantra: there are experiences in life that cannot be quantified. We all enter the world with a desire to create; it shouldn't be taken away, or used to inspire guilt— it's ours to champion.
___
L.J.Spillane writes here www.ljspillane.com and here @LJSpillane. She's always on the lookout for a little magic.
 Image: Matt Priestly