MLF Chapter & Verse
The Manchester Literature Festival Blog
Review: Kevin Barry and John McAuliffe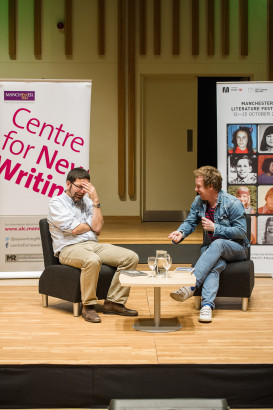 MLF Young Digital Reporter Kieran Lambe takes in an evening of high-wire poetry and prose in the company of two great writers at The University of Manchester's Martin Harris Centre.

Newly in from the October cold, audience members take their seats in the Cosmo Rodewald Concert Hall. They place coats and scarves over seat backs, they touch their fingertips to their cheeks and settle in for an evening of fine Irish poetry and prose courtesy of John McAuliffe and Kevin Barry.
Although, as Ian McGuire jokes in his introduction, McAuliffe himself could now, having settled in south Manchester, just as easily be described as a "Withington poet".
This idea of emigration weaves its way throughout the evening as it often does during conversations with Irish writers. McAuliffe returns to this idea during his reading. In talking about his translation of Jules Supervielle's 'Montevideo', McAuliffe compares his own experiences of travelling back and forth between Ireland and Manchester with Uruguayan-born Supervielle's experience of growing up in France.
McAuliffe eases through his set – which comprises selected poems from his new collection The Way In – and introduces each poem warmly and unpretentiously. When an audience member's phone goes off during his reading of 'Astronaut' – "There are no astronauts in it," McAuliffe advises – he laughs and points out that a phone is soon to appear in the poem.
The poems themselves show an attention to detail and a celebration of the everyday, much like the films of Richard Linklater – whose film Boyhood McAuliffe namechecks in his opening poem 'On Earth'. McAuliffe has a talent for reframing the habitual at new angles. See, for example, his elegant description of "the top of a bouncy castle and, every so often, children" in 'Longford Park'.
Following McAuliffe is Kevin Barry, dressed in double denim and white trainers, who reads from the opening two sections of his new novel Beatlebone, which imagines a visit by John Lennon to the west of Ireland in 1978.
Barry, described by McGuire as "one of the best prose stylists" working today, lifts his already lively sentences through confident delivery – delivery which incorporates shifting accents and cadences.
While at times Barry's prose threatens to revel too much in its own inventiveness, the author seems ever-aware of these boundaries. In fact, his narrative voice draws attention to itself ("and he is scabrous (there's a word)"). Ultimately there can be no doubt as to his skill for simple and effective imagery (Lennon's brain, Barry writes, "feels like a city centre"). With its manic sentences and varying tones, Barry's prose is a constant high-wire act. It's a wire he walks well.
In the brief question-and-answer session which follows the readings, Barry describes Beatlebone as the product of hours spent studying Lennon's speech and mannerisms in old interviews, as well as the "rock-breaking work" of drafting – during which he whittled the prose from some four hundred thousand words down to around fifty thousand. The end result is, Barry says, "a really nutty book." And at the end of the evening, as the members of the audience wrap their scarves about themselves and file out of the hall, few would disagree.
_
Image: Ant Clausen