MLF Chapter & Verse
The Manchester Literature Festival Blog
Review: Kirmen Uribe and Jesús Carrasco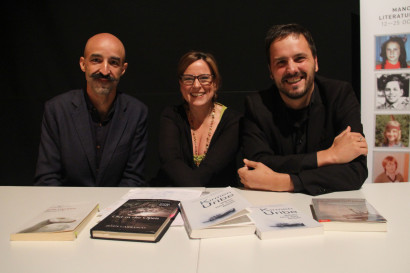 MLF Young Digital Reporter Elizabeth Gibson enjoys a memorable evening of Spanish literature

As a student of Spanish and general lover of languages I was delighted to be assigned two events to blog at the wonderful Instituto Cervantes. Between them they would showcase three of the four main languages spoken in Spain: Kirmen Uribe writes in Basque, Jesús Carrasco in Castilian and Care Santos in Catalan. All I need now is a Galician writer…
As always there was a great ambiance at the Instituto as Jesús and Kirmen arrived on stage alongside Mariana Casale O'Ryan, the hostess and translator (I would be seeing Care later in the week). Both writers had chosen to present a novel and for the first part of the evening each read a passage in his respective language with Mariana then repeating it in English.
Kirmen's book Bilbao New York Bilbao has a unique structure, hopping back and forward in time and combining several narratives that appear separate but are all interlinked by one of two things: the sea and the sky. The sea theme is a result of Kirmen's upbringing in a Basque fishing village and his father's difficult and dedicated life as a trawlerman. The sky refers to the titular plane journey from Bilbao to New York.
Although I was raised inland – good old Wigan – both my parents are from seaside towns, I have a lot of seafarers in my family history and I have always felt a great pull to the sea. I therefore loved listening to Kirmen's evocative descriptions of life on the water and I understood totally, painfully, his words on how he felt it was part of his composition to be nomadic, to always be travelling and never really settle. I feel it, too, that restlessness.
He read from the beginning of the book and the first line, "Fish and trees are alike", set the mood for a steady stream of gorgeous prose. Basque is a mesmerising language and of the big four Spanish languages it is the one I know the least about. It flowed like the sea itself from his lips, in waves and squalls, and was music to my ears.
Jesús then read a passage from his novel Out in the Open. Something that struck me, and which I pointed out to the writers afterwards, was how the two novels between them pretty much had nature covered: Kirmen deals with water and air, and Jesús with earth and fire, the latter in the form of the sun. His story takes places in the parched, baking hot landscape of La Mancha (land of Don Quixote) where a young boy escaping violence has to join forces with a goatherd and his caprine charges in order to survive.
As with Kirmen's work, Jesús's narrative gripped me from the beginning. The imagery is so vivid that you can feel this harsh, unforgiving world surrounding you and filling up your senses. The moment they discover a bone pit is so vivid; I could smell those awful bones and feel the sense of dread at this reminder of the nearness of death for these characters. It is an environment that suits Castilian exactly as the watery setting of the fishing village suits Basque.
Mariana then spoke to the two writers about common themes in their work such as journeys, nature and unconventional father-son relationships. On this final note, Kirmen read a beautiful poem about his stepson that is included in his novel. The discussion was then opened up to questions from the audience before the formal part of the event ended and we all mingled over tinto de verano (or apple juice for teetotal me).
I bought both books and each writer signed his for me in a lovely way: Jesús drew a portrait of himself and Kirmen, having heard from me about my family and the sea, wrote a poetic little inscription referring to it. I will treasure them both.
As I walked out of the Instituto to see the bright lights of Deansgate twinkling in the dark I reflected on what an extremely enjoyable evening it had been. As my first event of this year's Festival it was a great start and I am very excited about all that lies ahead. Sea, sky, earth and fire may make up this world but surely it's this kind of interaction between, and celebration of, different cultures that keeps it turning.
___
You can read more of Elizabeth's writing here.
Image: David Mclenachan