MLF Chapter & Verse
The Manchester Literature Festival Blog
Review: Man on the Moon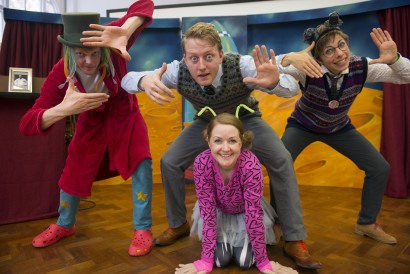 Young Digital Reporter Poppy Plumb gets into the proper spirit for a kid-friendly theatrical performance in which there were absolutely no aliens whatsoever
Bob's fan club… REPRESENT!
Bob is just an ordinary human being, but with an incredibly important job: he is The Man on the Moon. He has to look after tourists, check they haven't fallen into any craters, and before blasting off back to Earth, cleans up the rubbish that has definitely not been left by a group of fanatical aliens. Because aliens don't exist, do they?
Manchester Central Library transformed into a 'Rock 'n' Roll Rocket' in honour of Bob, who met his devoted fan club on Saturday morning. It was a lively, hilarious, musically brilliant show, and was thoroughly enjoyed by all of Bob's number one fans.
Adapted from Simon Bartram's award-winning picture book, director Ruth Johnson brought its colourful eccentricity and loveable characters to life. Rita, Nora and Terri, our very human and not-alien-at-all fans acted as our guides, taking us through Bob's daily routine. Everything from his breakfast and his daily jobs on the moon to his evening bath was told through a variety of musical performances. Perhaps most importantly, they reminded us of Bob's Fan Club's rules:
Stand smartly;
Be on time;
Immediate your moon pose;
Straighten your tie (not your pie);
And pinky-planet-promise not to tell Bob that we are all, err, aliens.
It was the variety of catchy songs punctuating the performance that stood out. Live piano, violin and guitar accompaniments were all performed by Bob and his definitely-not-alien fans, inviting everyone to sing and dance along. The incorporation of a 'Bob' bassline into an a capella number was a stroke of genius. The minimalistic yet captivating set design allowed the young fans to exercise their imaginations to create the moon landscape, staying true to the make-believe element of reading your favourite childhood picture book.
As with every good story, the moral of 'Man on the Moon' was heart-warming, without falling into the formulaic cheesiness of a lot of children's theatre productions. Bob overcomes his hesitant shyness and no longer feels overwhelmed about being the centre of attention. He even signalled the start of the show's final song by reaching for his guitar in one final hurrah.
In line with Manchester Literature Festival's #10words campaign on social medi, I asked some of Bob's fans to sum up what they thought of the show:
'Fantastic'
'Funny'
'Hilarious'
'Really good'
'Amazing'
'Super space-y'
'Strange in a good way'
'Being on the moon was the best bit'
'His rocket was amazing'
'I really want to see it again'
As a now honorary member of Bob's Fan Club, I want to say 'thank you' to Bob, the 'funny lunar mover', for an exceedingly entertaining show (where there were definitely no aliens whatsoever).
___
Image: Jon Parker Lee