MLF Chapter & Verse
The Manchester Literature Festival Blog
Review: Michael Rosen & Mandy Coe on Children's Poetry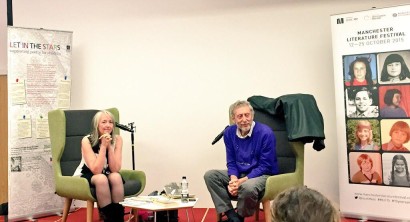 Young Digital Reporter Bryony Makin has fun at a relaxed conversation with two great champions of children 'doing poetry for themselves, rather than having poetry done to them'.

I don't think I've ever been to a literary event with two less pretentious speakers. I have a suspicion that if 'Children's' had been dropped from the title a discussion of 'The Future of Poetry' could have been a sober, portentous affair. But despite the depth of knowledge, experience and commercial success speakers Mandy Coe and Michael Rosen can lay claim to they presented themselves with humour and humility, grateful for the platform to explore a topic that was evidently close to their hearts.
I was particularly looking forward to hearing Rosen speak, mostly, I have to admit, because I still haven't got over my love for his collection Don't Put Mustard in the Custard, despite the twenty or so years since I first opened it. It turns out that the man who wrote my favourite childhood poems about struggling to ask for a cheese sandwich is also a witty, well-read and deeply knowledgeable educationalist, who manages to move with ease between explaining a conceptual distaste for New Criticism and scathing depictions of Michael Gove thinking up the National Curriculum (on the toilet, naturally).
While they did offer advice for teachers, centred mainly around the idea of children 'doing poetry' themselves rather than having poetry done to them, Coe as host was keen to ensure that the discussion was not limited to poetry in school settings. The practicalities and difficulties of working in the industry were discussed, particularly a lack of infrastructure to help develop new children's poets and provide avenues for launching their work. New writers were advised to get online and get connected to local communities to try and connect with possible audiences and create chances to receive that critical impartial feedback to help develop their work.
'Children need to see poets still breathing' asserted Coe, and I can testify that these poets were very much so, especially if anybody raised the red rag to the bull that is recent education policies. But what made them the most animated was still, after a joint total of at least fifty-five years in the business, poetry. Just seeing Coe listening to poetry is an experience as she leans forward wide-eyed and open-mouthed, drinking in the rhythms and sounds. Both writers approached poetry as a lived personal experience as much as text, not just for themselves but for everyone.
'People are themselves poetry, think in metaphors, think in poetry' offered Rosen, and running alongside this belief was the understanding that all should be enabled to access that poetry around them, something that Coe and Rosen have spent years helping facilitate through their writings and their work in schools. As the evening was rounded off by Rosen reading one of his own poems it was hard not to notice the room full of adults roaring with laughter; apparently good poetry doesn't listen to recommended reading ages. After tonight I'll try not to overlook the poetry hiding in plain sight. Us adults make it much too complicated.
____
Image courtesy Manchester Children's Book Festival.