MLF Chapter & Verse
The Manchester Literature Festival Blog
Review: True Harmony: Yeats at 150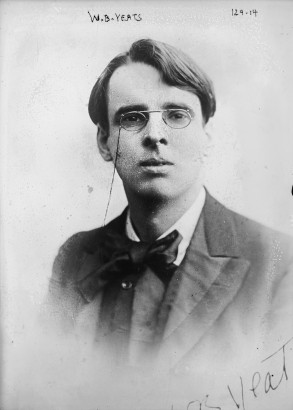 Festival Blogger Abi Hynes is stirred by a lively musical and poetic seance raising the spirit of William Butler Yeats
I was by no means an expert in WB Yeats when I joined MLF in a packed-out hall at the Whitworth Art Gallery last Thursday, to summon the poet's ghost.
The event was conceived of as a celebration of 150 years since Yeats' birth, and also a gentle sort of homage to his 1903 performance at the same venue. It was a strange and haunting way to spend a weekday evening, and split into two very different halves.
The first was given over to American composer William Brooks' Everlasting Voices project; an academic exploration and creative response to Yeats' practice of 'chaunting'.
Brooks' introductory talk succinctly filled in some blanks for my fellow non-experts in the audience. 'Chaunting', he told us, was Yeats' proposed style of speaking poetry with an emphasis on musicality. It could be notated, and emphasised by musical accompaniment on an instrument called a psaltry (which I thoroughly suggest you google).
We then experienced Brooks' research in action, with a performance of his Everlasting Voices from Dublin duo SoundWeave (Nuala Hayes and Paul Roe). It was an odd but fascinating cocktail of biography, poetry, music and theatre, which was often mesmerising and occasionally moving, particularly when it incorporated letters from Yeats' long-frustrated love affair with Maud Gonne.
But the second half of the evening was where the event really packed its punch for me. An impressive line-up of contemporary poets shared Yeats' work, followed by their own creative responses to it. Across the board, these short sets were delivered with a sort of reverent passion that was a pleasure to witness.
Big themes hovered over our heads; Colette Bryce's set looked ahead to next year's commemoration of the Easter Rising, and Michael Symmons Roberts gave us a mournful reimagining of 'An Irish Airman Foresees His Death'. There were some Yeats-worthy lines from Jeffrey Wainwright on civilisation (or, 'the human desire to bring the world under rule'): 'Otherwise we fall through / Like light through glass, nothing now and nothing then.'
And the ultimate highlight, for me, came in the form of Vona Groarke's 'Going Out for Eve'. A more local, domestic and intimate reflection of Yeats' 'High Talk', she gave us her daughter's high heels in place of Yeats' parade stilts. The poem did a remarkable job of illuminating Yeats' legacy, and closing the gap of 150 years.
Groarke told us that she'd wanted Yeats' work 'to come down off its stilts and walk amongst the life we know.' I think the evening as a whole achieved just that.
__
Abi Hynes is a drama, fiction and poetry writer. She runs First Draft cabaret collective and theatre and film company Faro Productions. Follow her on Twitter: @AbiFaro