MLF Chapter & Verse
The Manchester Literature Festival Blog
Review: Afternoon Tea With Kate Clanchy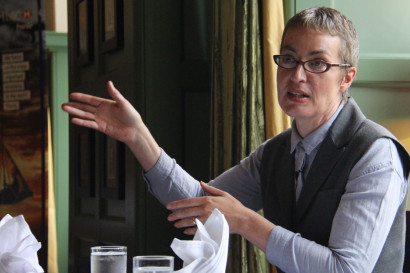 Sarah Jasmon enjoys an afternoon story – and cake – with Midland writer in residence Kate Clanchy.
Kate Clanchy is wearing a coat-dress made in a fine grey suit fabric with a collar and tie. With her cropped hair and glasses, she has the air of a Bloomsbury bluestocking, which feels just right for the Edwardian setting of the Midland Hotel's Wyvern Room. She's not scary though, she tells us, and even tells jokes sometimes.
She's here to read us a story, commissioned as part of her writer's residency at the Midland. It takes us into a world where Alzheimer's Disease is taking over the world and where the iconic buildings such as the Midland are taken over by companies like Elderparc as residences for the elderly. Elderparc cater for those who can pay handsomely for the privilege, recreating the past in minute detail with the original fittings, food and smell, the better to make the residents happy.
The protagonist, a Manchester lad done well, uses money to fix all of his issues, and has shipped his mother, Rita, to the Elderparc-run Midland as her memory goes. He wants her to have the smart tea room, the gentility that was beyond her reach in her early life. She, however, is happiest scrubbing the floor, secure in the moment of her life when she was most alive.
The story has a double Manchester connection, as it followed on from Clanchy's contribution to Litmus, the Comma Press anthology partnering writers with scientists. In that, she explored the Alzheimer's brain. It's the hippocampus that goes first, she explains, the part that is responsible for processing, for making new maps and spatial memories. We can't make new memories at that point but can still access old ones. Happiness is often dependent on knowing where we are: Rita is content with this, though the reality upsets her son's ideas of progress.
From here it seems perfectly normal to move into a discussion of the afterlife. What are our expectations? What happens to our personalities when they are taken out of time? This led Cathy Bolton, MLF co-director and conversation partner for the afternoon, to bring up After Life, the 1998 Japanese film in which the newly dead are given a week to decide upon one memory with which to live for eternity. Clanchy chooses picking blackberries with her son, gathering them into the basket on his bicycle. Her soundtrack for eternity, though, would be The Archers, specifically around the time when Nigel and Elizabeth got together and long before The Roof Incident. But she's not expecting anything along those lines. It is comforting, she thinks, to believe that life ends, rather than that it continues in order for us to be counted and judged.
Such deep philosophy ends as it should, with tea and scones. And brownies. And banana tarts with whipped cream. Not a bad moment, perhaps, for eternity to strike…
Read Kate Clanchy's new, MLF-commissioned story 'Elderparc' on our website.
_
Sarah Jasmon is a writer who lives on a boat, and is the author of the novel The Summer of Secrets. Find her on Twitter @sarahontheboat.
Image: David Mclenachan