MLF Chapter & Verse
The Manchester Literature Festival Blog
Review: Paul Mason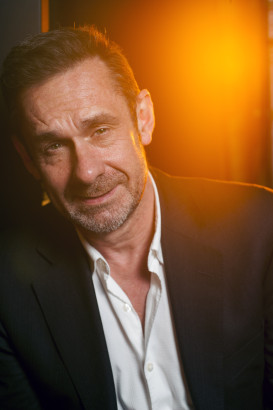 Louise Bolotin is spellbound by an evening with the brilliant Paul Mason.
Paul Mason is familiar to many as Channel 4 News' economics editor, and to the musically minded as a Northern Soul aficionado, but it was in his journalistic capacity that he took to the stage to expound on his theories about the future outlined in his latest book, PostCapitalism: A Guide to Our Future. For some 45 minutes he held the audience spellbound as he kicked off by cracking a joke about Jeremy Corbyn, Aneurin Bevan and a metaphorical town called Cappucino then flitted effortlessly through his arguments, hopping from one topic to the seemingly disconnected next before pulling all the strands together into a weighty conclusion.
The thrust of Mason's argument is that capitalism is dying and something new is emerging, made possible by the IT revolution that is rapidly undermining how societies have traditionally functioned and business has traditionally been conducted. He placed the death of capitalism within the context of how previous societies and cultures, such as the Greeks and Romans, have held sway before being replaced. Referencing economist Thomas Piketty, the errors of Karl Marx's theories and how fiat currency (paper money) is pegged to nothing of material value, he explained why the 2008 global financial crisis signals the beginning of a long tail to something that will succeed capitalism. And that something, he claims, is information technology which is profoundly changing everything from the disappearance of work and wages to how we acquire goods and view ownership.
The so-called sharing economy, or collaborative economy as Mason prefers to call it, is undermining everything as we know it because we now have access to more information than ever before and it is paving the way to new ways of doing things. These range from volunteering time banks to local currencies such as the Brixton pound, to peer-to-peer activities, crowdfunding and crowdsourcing. He cited Wikipedia as a particularly good example of the gift economy, in which people collaborate altruistically to create solutions rather than make profits. All this, he said, would give people the opportunity to build a fairer, socially just world based on a more sustainable economy. He was quick to emphasise the importance of climate change as the biggest challenge ahead and to note that people fear societal change, particularly the level of change we'd need to build this new, attainable utopia.
His talk was an exhilarating and inspiring roller coaster through all these ideas in such a short time. Dr Katy Shaw, principal lecturer in contemporary literature at Leeds Beckett University, then grilled him gently on his vision of the PostCapitalist world and how it could look. When the floor was opened up to the audience, inevitably the first question was about the collapse of the Greek economy and threat to the euro. And Mason was off again, talking about the rise of the new left such as Syriza, Podemos and even our own Jeremy Corbyn, of whom he said he had no idea about Corbyn's economic plan, but that he had popular support because he represents the opposite of austerity. Thunderous applause at the end plus a lengthy queue for book signing suggested that Paul Mason's vision had struck a very deep chord with his audience.
__
Louise Bolotin is a freelance journalist based in Manchester and writing on anything and everything from finance and business to TV and food. She can be found tweeting at @louisebolotin.
Image: Jon Parker Lee