MLF Chapter & Verse
The Manchester Literature Festival Blog
Review: Simon Armitage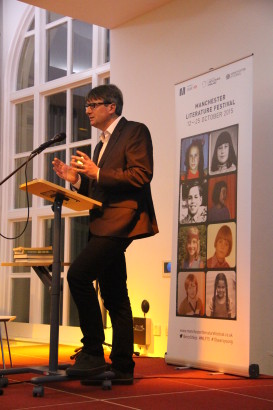 Young Digital Reporter Elizabeth Gibson is thrilled by a first encounter with one of her favourite poets.
I have long been a fan of Simon Armitage: his poem "Homecoming" is one of my absolute favourites. So it was with great excitement that I sat down in the Central Library to see him for the first time. The room was packed with spectators of all ages and there was a great atmosphere. After an introduction by Irish poet John McAuliffe, Armitage stepped up to the microphone and began the evening with a poem written about the Central Library itself, before speaking about his latest book, Walking Away.
A sequel to Walking Home, in which he walked the Pennine Way, Walking Away charts the writer's journey along the South West Coast Path. During both voyages he acted as a sort of troubadour, giving poetry readings in exchange for money to live on, which was deposited in a sock he would pass around, and a bed for the night. This allowed him to meet some weird and wonderful characters: his account of the reading he did for Mav – "short for Maverick" – in Cornwall was a hoot and had the room in stitches, as did his comments about how he nearly tried his chances reading in Butlins before deciding he couldn't measure up against an Ollie Murs tribute act.
The selection of extracts that Armitage read was diverse and poignant. He recounted with humour, depth and passion the ever-changing landscape through which he travelled as well as the toughness of the voyage and some of the challenges he faced. As somebody who loves the sea I listened eagerly for his creative interpretations of it; however, he commented that he wrote less marine poetry than he had expected. In fact, he had to work hard to create his one sea poem, and the result, "From Where I Stand", is stunning: "What is the sea? The sea is sleep. Dog-headed fish and transparent brine-blooded creatures loll and glide in its depths…"
He finished with a poem about flowers from Walking Home which is very different from the average floral poem. There was then a relaxed question and answer session between McAuliffe and Armitage in which the poets discussed some of their influences, such as John Betjeman, whose tomb Amitage visited.
Armitage then rounded off the evening by reading the list at the end of Walking Away of the astonishing assortment of items placed in his payment sock over the journey. It was an amusing end to proceedings and the room was buzzing with laughter and admiration as we got up to leave or buy books. Armitage signed two books for me and I was tempted to ask him what the true meaning of "Homecoming" is but decided that for now I should let it remain a mystery.
It was a brilliant event to have as my last of this year's Festival. I've had a great time as always and have met some lovely and inspiring people. I hope to continue being involved in the Manchester Literature Festival for years to come!
_
You can read more of Elizabeth's writing here.