MLF Chapter & Verse
The Manchester Literature Festival Blog
MLF visits Karachi Literature Festival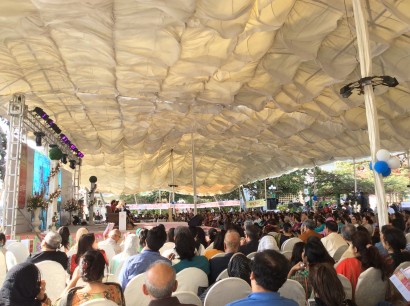 Last month MLF Co-Directors Cathy Bolton and Sarah-Jane Roberts attended Karachi Literature Festival. Here they report on their impressions of this lively and popular fixture on Pakistan's cultural calendar.

We recently visited the wonderful Karachi Literature Festival. Now in its 7th year, the festival was established with the support of the British Council with the aim of providing a safe and inspiring space for the people of Karachi to meet, share ideas and celebrate culture – judging by the animated throngs of people (an estimated 25,000) pouring into the festival grounds each day that ambition has certainly been met!
The Festival is hosted in the tranquil Beach Luxury Hotel on the banks of the Chinna Creek, with the bigger events taking place in the palm tree-lined garden. It's a very atmospheric setting, especially when the sun starts to set over the mangroves and the screeching black kites turn the sky into a scene from Hitchcock's The Birds. There is a heavy presence of armed security staff patrolling the site but we are told that their presence is a reassuring necessity for locals and families. We start to realise how much we take for granted the rich variety of cultural engagement on offer to us in Manchester.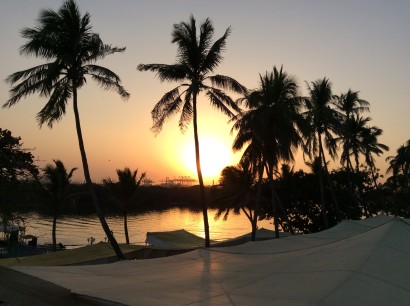 The festival attracts a mainly local audience and events are conducted in a mixture of English and Urdu (and occasional Hindi). We stand out as being two of the few westerners, and everyone from school girls to the gun toting police guards ask to have selfies with us.
There's a very packed and diverse programme of passionate debates, Mushairas (poetic symposiums), film screenings, stand-up comedy and musical entertainment, with simultaneous events taking place throughout the three days. We tried to sample as many events as possible between networking dinners and book market browsing.
We were delighted to catch up with novelist Kamila Shamsie, who MLF commissioned to respond to the Sensory War exhibition at Manchester Art Gallery in 2014. She was participating in two very interesting panel events on the themes of Fiction, Memory and Colonialism and the cross over between mythology and history. The latter event threw up some great discussions around the portrayal of men and women in history, with Shamsie suggesting, "the voices of women are often erased because it's men writing the history. It's a sociological decision and a patriarchal decision to represent women as the mother figure rather than warriors. There are some fantastic women in our history but we don't write about them and document them as much as we should." Fortunately, this travesty is happily being reversed by authors such as Shamsie, Uzma Aslam Khan and Bina Shah who consciously include oral mythologies and female deities in their work.
There is a whole strand of art related events across the festival and a small exhibition of interesting work on display, including a pair of giant boxing gloves made from beeswax which attract a lot of physical attention much to the consternation of the volunteers on duty. A session titled Poetry in Art, Art in Poetry featured a presentation by poet and curator Bina Sarkar Ellis on Issue 27 of International Gallerie which showcases the collaborative work of poets and artists. Author Asif Noorani suggests "Poetry is art, and for a poet there is poetry everywhere, even in war," whilst Ellis emphasizes that there is a very deep, rich culture of artists, musicians and poets responding to each other's work in Pakistan. She also shows some beautiful examples of poetic responses to art throughout the ages including ones from Carol Ann Duffy and Imtiaz Dharker. Unfortunately the book stall sold out of all copies on the first day!
In a discussion titled Pakistani Cinema Strikes Back we learn about the renaissance of the national film industry (after a hiatus between the 70's and 2007) and how films such as Manto (a very inventive biopic of the celebrated short story writer, screened in the garden later that evening) are enjoying box office success. The panel discuss how once the various distribution, cinema and marketing costs are deducted very little of the profit finds its way back to the actual film makers – an all too familiar story! They conclude however, that what the country needs is 'more passionate film directors' and more 'imaginative and thoughtful films that reflect modern life in Pakistan.'
In another session, awards are presented to the winners of a video competition themed Towards a Better Pakistan, supported by the Eqbal Ahmad Centre for Public Education. The winning film, Sobbing Sea by Azhar Shan and Ayoub Mullah, features a series of interviews with fishermen affected by the destruction of the marine environment caused by civic and industrial pollution and the illegal chopping down of mangroves for fuel. In past times, fishermen would be able to have rest seasons between bountiful fishing expeditions, now fish stocks are dwindling so much they have to fish every day and often come home with empty nets. The panel agree that the government urgently needs to address this alarming issue and the nation needs to be educated as to the dangers of environmental degradation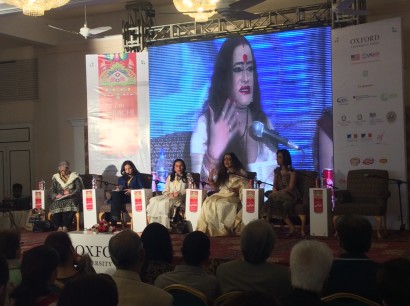 One of the most charismatic guests at the festival is transgender social activist, dancer and actress Laxmi Narayan Tripathi (pictured) who has been a pioneering force in the fight for rights for transgender people in India and internationally. The two events she participates in draw huge crowds and elicit heated debates and rousing applause. Some of the content was lost to us in translation but the underlining argument seems to be – with over 500,000 transgender peoples in Pakistan there's an urgent need to address gender dysphoria and create new gender binaries that reflect everybody in society. "This is a human right issue, for India, for Pakistan, for everywhere. There is no solution without us and any discussion or changes need to start with and include us."
Feminist campaigner Ruchita Gupta also proved to be a big draw, taking part in two events focusing on women's rights and equality. A friend and colleague of recent MLF guest Gloria Steinem, Gupta founded the anti-sex trafficking organization Apne Aap Women Worldwide and has campaigned vigorously to safeguard young women, offer them support and new opportunities and change the laws on sexual assault, rape, harassment and trafficking. "Sexual exploitation is rampant in our society," she declares. "We started out with 20 members at Apne Aap and now have over 20,000 members that have been involved in prostitution. The challenge is a huge one socially, economically and mentally but we are stronger united, and we want to help as many girls and women as we can."
After closing speeches by Festival directors Ameena Saiyid and Asif Farrukhi the Festival is brought to a joyous close by comedian Saad Haroon whose hilarious observations of Pakistani mating rituals has the crowd in stitches. We leave for the airport very early the next morning, our bags heavy with newly acquired books and our heads brimming with ideas for potential programme collaborations between MLF and KLF.