MLF Chapter & Verse
The Manchester Literature Festival Blog
Review: Gloria Steinem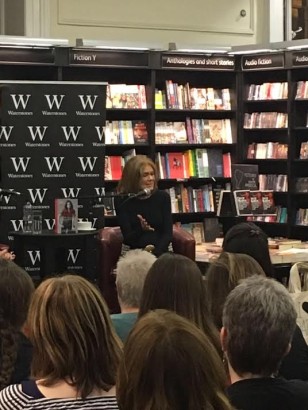 "Masculine and feminine prisons – we all have all the human qualities." Young Digital Reporter Alex Stone is moved by our event with Gloria Steinem at Waterstones, following publication of new memoir My Life on the Road.
A hush descends upon the audience as Gloria Steinem takes to the stage. There is nothing arrogant or intimidating about this woman, such a prolific figure in the feminist movement. She is, for all intents and purposes, just an ordinary woman, desperately seeking equality in a patriarchal world. And yet, as she begins to speak about her childhood, her life on the road, her latest book, a richness fills the room. Here, in front of my very eyes, is someone who eats, sleeps and breathes a world that, at the moment, we can only dream of.
Ms Steinem is honest in her accounts of her childhood and upbringing. It is hard not to let your jaw drop and a look of awe cross your face, as Steinem openly discusses her mother's illness, the separation of her parents and her mother's inability to hold onto a job after her father left, without a single look of distress or a note of bitterness in her voice. What becomes clear, from the eloquent way in which Steinem speaks, is that her upbringing shaped her future endeavours (and led her to being in front of us this evening).
It comes as no surprise to me that Steinem discussed so much more than her new book. After all, the World Economic Forum recently published their Global Gender Gap Report, in which they documented that it would take another 117 years for there to be gender parity in the workplace internationally. We are watching and waiting to see if we are about to enter the first term of the first female President of the United States. The Sony hack means we are now all brutally aware of how much more men are paid than women in Hollywood. Women are still being forced from senior positions in companies across the world due to sexual harassment in the workplace.
On receiving a question regarding whether she will be disappointed if Clinton doesn't make it to the White House, Steinem's answer is point blank no – because "it's not about getting a job for one woman, it's about getting jobs for all women." And in that moment, it is clear that the issue we are facing as women is so much bigger than we can possibly imagine, and that is what we are here to discuss.
"We made an error when we told women and girls that they could have it all because it's a lie, and when they don't get it all they think it's their fault." At this point in the evening, the conversation is so poignant. Steinem discusses so beautifully how we are imposing ideas on girls and young women that we cannot fulfil. It's sad, and yet when the evening is over, I feel hopeful. Gloria Steinem, with her mesmerising words and humbling demeanour, has restored my faith in being a woman in the 21st century, and reminded me why it's so wonderful.