MLF Chapter & Verse
The Manchester Literature Festival Blog
Review: Helen Macdonald and Jeanette Winterson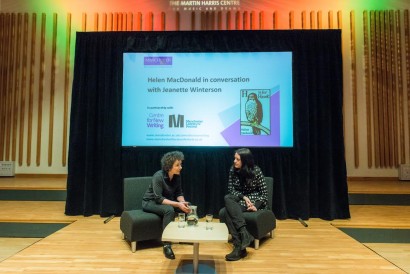 "It's always about quality of attention": MLF's Kate Feld reports on our recent in-conversation event with Jeanette Winterson and Helen Macdonald, which featured compelling insights into Macdonald's hit memoir as well as inspiring talk on the writer's craft.
A meeting of two such multi-faceted and curious minds as Jeanette Winterson and Helen Macdonald is a rare treat, and our event with the Centre for New Writing did not disappoint. Poet and academic Helen Macdonald's first nonfiction book, H is for Hawk, was one of my favourite reads of 2014, and I wasn't alone ‒ it was a fixture on bestseller lists on both sides of the Atlantic, scooping the Samuel Johnson Prize for nonfiction and Costa Book of the Year. The author's first Manchester event brought a full house crowd to the Martin Harris Centre, and created a real sense of excitement in the air.
It's easy to understand why so many people are excited about H is for Hawk, hailing it as a new kind of literary endeavour. The book is a deft weaving of three strands: a memoir of the author's depression following the death of her father; her tale of training her first goshawk, Mabel; and a critical biography of the writer T.H. White. Macdonald shows how the experience of training Mabel helped her explore and return stronger from the dark interior of her grief ‒ a wild landscape that White, author of his own rather more horrifying goshawk training memoir, lost his way in. At the start of the conversation, Winterson likens Macdonald's experience to finding a magic land in a fairy tale, and points out that fairyland is often a place where people get stuck, they don't want to return. "We both saw ourselves in our hawks," Macdonald told Winterson, "T.H. was haunted by his."
Winterson is as always a quick-witted and incisive host, getting right to the meat of the matter. The two writers discuss how Mabel was a way of escaping that was not as damaging as drink, drugs or insanity ‒ allowing Macdonald to embrace darkness in the shape of a bird, owning and embodying death. Macdonald talks of experiencing a 'radical empathy' with Mabel; during training she had no human contact, and "started to feel more like a hawk than a person, running around a hillside with the bird in a fugue state."
Her time with Mabel changed her perception of landscape, and the way she used language; She lost her names for things, surely an unsettling experience for one who has made words her life's work. But there were benefits: Macdonald says it made her fearless about playing with language. She was able to write in a more free and associative manner to convey the infinite series of present moments a hawk would experience, echoed on the page by short sentences and very staccato prose. Winterson, too, talks about the importance of learning an animal's sense of focus: "When I'm writing badly, it's because I'm not looking. It's always about quality of attention."
Macdonald also speaks powerfully about the strange experience of visiting the fellows of Jesus College with Mabel, occupying a different role in her old world ‒ "I had been a historian, now I was the hawk lady, a fool in motley." She is alert to shifts in her persona and disarmingly frank about what it is to observe these changes from the inside:   "Part of what happens when you suffer a big loss is a lot of the fictions you have about your life fall away," she says. Training the hawk let her become someone else for a while ‒ and now she is someone else again. Winterson asks some incisive questions about her book's success and the way it has changed Macdonald further, and there's a great moment where she fully acknowledges the weirdness of being someone talking about her book on a stage with Jeanette Winterson.  "This is still me," she says, "but not the me that eats beans on toast and swears." It's wonderful to spend time with a high-flying and dizzyingly talented writer whose feet remain firmly on the ground.
_
Kate Feld is Manchester Literature Festival's Digital Engagement Coordinator, copywriter and sometimes event host. You can read more of her writing at katefeld.com or follow her on Twitter @katefeld.