MLF Chapter & Verse
The Manchester Literature Festival Blog
Review: Irvine Welsh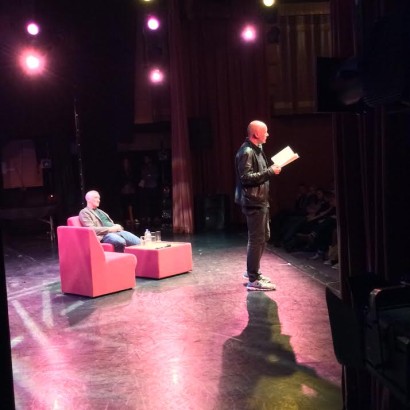 So what has one of contemporary literature's most violent psychopaths been up to lately? Festival blogger Fran Slater headed to The Dancehouse to find out, as Irvine Welsh discussed new novel The Blade Artist (and its protagonist, Trainspotting's notorious Francis Begbie) with Kevin Sampson.
Entering The Dancehouse on this wet Sunday evening was a strange experience. We were here for a reading from a new novel and an onstage interview with its author, but the size of the queueing crowd was more reminiscent of something you'd see at the Academy or the Apollo. A comeback gig for a nineties indie band, maybe. And, for the regular attendees of Manchester literary readings, it was even stranger to glance around and see few familiar faces. This wasn't the usual crowd. But then you'd remember that this was Irvine Welsh. You'd remind yourself what can happen to a writer's career when he creates something as legendary as Trainspotting.
There were times during the evening, though, when you might have wondered if Mr Welsh was a little fed up of talking about the novel he published 23 years ago. Especially when, during the audience questions, somebody asked him what he thought of the filmic interpretation of his novel. Come on now people; even the film is 20 years old. Think of some new bloody questions.
But then again, Welsh was here to launch The Blade Artist. His latest novel features everybody's favourite Scottish psychopath, Mr Francis Begbie (whom we first encountered in Trainspotting), so it's no real surprise that people had the author's most iconic characters in mind. Begbie, we learnt during the interview and reading, is a reformed character. Living with his wife and two daughters in California, he is now a famous artist, getting rich from his mutilated celebrity busts that he sells to the stars. He returns to Leith following the murder of one of his sons, and because it is a book about Begbie, we can all assume it doesn't end in cuddles and kisses.
Welsh's reading from the new book was sublime. Since Trainspotting the author has had some major hits and some minor misses, but nothing has quite reached the heights of his debut. As he strutted across the stage, acting out his new novel as much as he read it, there were hints that The Blade Artist may just come close. Displaying his trademark mixture of humour and savagery, the short chapter he treated us to was worth the entrance fee on its own.
There was evidently a bond between Welsh and his interviewer, too. He chatted to Kevin Sampson like they were two mates on the settee, while at the same time managing to direct his wit and wisdom out into a rapt audience. With conversations ranging from his childhood to the arts, via the Tories, employment issues, life in Chicago, and, of course, his work, Welsh managed to be very funny, extremely informative, and as down-to-earth as a multi-million selling author could possibly be.
You know you've been to a good reading when you come out not only armed with a signed copy of the latest novel, but also a desire to dig into the parts of the author's back catalogue that you might have missed. If you leave with ideas for your own work, then you've probably witnessed something better than just good. If, by halfway through the day following the reading, you're already two thirds of the way through the new novel that you bought, it's probably safe to say that you were present for a pretty special night. All these things are true for this reviewer, and that's probably all the reviewing the event really needs.
_
Fran Slater is a Manchester-based writer and editor who is currently taking far too long to finish his first novel. Read his fiction, reviews, and poor attempts at blogging here.