MLF Chapter & Verse
The Manchester Literature Festival Blog
Q&A: Andrew McMillan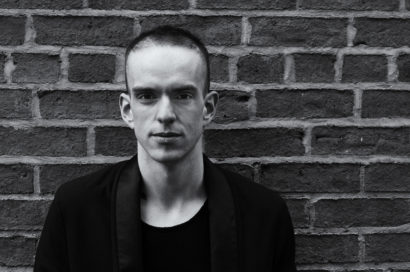 Andrew McMillan's debut collection of poetry, Physical, is a hymn to the male body, male friendship and male love that Michael Symmons Roberts called "a glorious, vivid exploration of the body as the loved and broken ground on which we meet and are transformed." It won the Guardian First Book Award and the Fenton Aldeburgh First Collection Award, among others, and was shortlisted for several more. He currently lectures in Creative Writing at Liverpool John Moores University and lives in Manchester.  We spoke with Andrew about his writing life in advance of his event at this year's Festival.
When did you start writing poetry, and when/how do you feel that you developed your own voice in the poems?
I wrote things when I was really young, like a lot of kids do, just for fun and then when I was a teenager as a way of trying to process everything that was going on; I really started to take my writing seriously when I was sixteen or seventeen and I started reading Larkin and Thom Gunn. Developing a voice takes a long time though, maybe in fact it's a lifetime pursuit, and so the poems in Physical were really the first time that I think I hit upon something that was something that I definitely felt I had to say, and managed to develop a style in which I wanted to say it.
Your first collection has been a smash hit in the poetry world, bringing your poems quickly before a larger audience of readers. What has this experience been like – and has it had an effect on your writing ?
It's been incredibly surreal; I genuinely wrote the poems not thinking anyone would read them at all, which is how I allowed myself to be so brave I think – but once they were published it's really been lovely seeing how many people have had a strong reaction to them, how many people have told me they've seen something of themselves in them. The odd (but brilliant) thing when a book's done well is the hold it can take over your writing life (or so its seemed to me); I've begun writing new stuff, trying to move away from Physical and look more at different subjects, and yet I'm still giving readings or talks on Physical, which I'm really grateful to be doing, but there's a sense in which the book has a life once you've already left it behind, a sort of haunting.
How does your writing day generally work?
I'm a lecturer, and do a lot of literature festivals and things like that, so there's not a particularly typical day – what I have tried to do is carve myself out an hour each morning to redraft a poem; so I try to get up before 5am, go to the gym (this is the ideal, it rarely happens) then have an hour redrafting a poem from my manuscript-in-progress, and then I can get on with whatever the day holds. I can't really force myself to sit down and write, not first drafts anyway – they often come on trains, or walking through the city- a line will suddenly appear, so I'll note that down, and then its a process of slowly building onto that.
What books have influenced you as a writer, and what have you enjoyed reading recently?
I've spoken a lot about the influence of Thom Gunn, not necessarily in style, but just in permission of subject; two other great poets who were massive in terms of permission for what I wanted to write were Sharon Olds and Mark Doty. I read an anthology called Children of Albion when I was younger which is a collection of underground British beat poetry, and its quite extraordinary, some of the aesthetic or stylistic stuff in my work comes from that most definitely. Most recently I've been reading Alice Oswald's new collection, which is astonishing, a collection of short stories by a new writer, Danielle McLaughlin, called Dinosaurs On Other Planets which is very beautiful, and I've been revisiting Tom Paulin's work, and discovering how great he is all over again.
What are you working on now? And are there any more distant projects starting to take shape?
I'm trying to pull together a second manuscript, thinking a lot more about childhood, about the body before physical, about how we grow into our identities and bodies; there are so many things I wish I could write – but just one poem, one line at a time, and we'll see where we get to.
 __
Andrew McMillan reads and discusses his writing alongside novelist Garth Greenwell, author of the similarly acclaimed debut novel
What Belongs to You
, on

Wednesday 12th October at 8pm

at the Burgess Foundation. Tickets £7/£5.
Book now >