MLF Chapter & Verse
The Manchester Literature Festival Blog
Q&A: Henry Normal
You might say Henry Normal is a poet with a very successful sideline in television. As a television writer and producer, he's responsible for bringing us classics such as The Mrs. Merton Show, The Royle Family and The Mighty Boosh. His seventh collection, Staring Directly at the Eclipse, offers poems about death, human frailty and other classic conversation stoppers. The Scotsman called him 'the Alan Bennett of poetry.' He's also no stranger to Manchester's live literature scene…
Before his appearance at this year's Festival we spoke with Henry about his adventures in bringing poetry to the Mancunian public, his own writing and the poets, comedians and performers he loves.

You and Ric Michael set up Manchester Poetry Festival, which eventually begat Manchester Literature Festival. How did the festival come about?
Along with other poets I was continually doing poetry festivals in small rural locations and yet a lot of the modern poets were urban. It did strike me this was odd. Also with the vibrant poetry scene in Manchester it felt wrong there was no poetry festival. Ric and I had worked together setting up entertainment and cabaret gigs. Ric was quite rock and roll and at first was not really a fan of poetry. He'd introduce the poet then go and stand outside and have a fag.
I'd just starting working in TV and had some money but was not happy. I wanted to find a way of getting some happiness out of the money so I put up £2,000 and we scheduled a week of events. We put on a gig to announce the idea at the Cornerhouse gallery with myself, Lemn Sissay, Kev Fegan, Steve Waling  and Johnny Dangerously (John Bramwell from I am Kloot) all performing. We got Waterstones involved and had good relations with Cornerhouse and the greenroom. The initial gigs we'd organised were surrounded by other events from Commonword, South Manchester Poets and Carcanet. In the first year we had about twenty events with more than 40 poets.
We produced a brochure and fly posted large posters around the city like for a rock concert. The logo was based on the Dead Poets Society design and the first year we used the strapline 'Excite the mind', a phrase I'd invented to try to appeal to the creative Manchester audience and counteract the dry, tired reputation of modern poetry. Tony Harrison opened the festival at the greenroom. I felt it was important to have national respected names but always put these poets on with local up-and-coming poets.
Ric worked really hard and grew to love poetry. After I got more involved in TV, he took the festival to much greater heights. My favourite night was presenting Seamus Heaney to more than 300 people at the Whitworth Art Gallery. It was just after he won the Nobel Prize and the entire audience stood to applaud him onto the stage. Putting Linton Kwesi Johnson on at a rock venue and seeing a full crowd so hushed you could hear your own breathing was something special, too.
In the intervening years you've had a very successful career in television. Were you writing poems the whole time, or is it something you've returned to recently?
I started writing poems again two years ago after a complete absence of 20 years. My Dad and my brother Dave died, and my autistic son reached 16 which meant he became a ward of the state. These events helped me focus on what is now important to me and what, if anything, I have to say to the world. In April this year I retired from TV and now work more or less full time on writing, although I am retained as a consultant at Baby Cow and do a little editing and script editing. Having made more than 400 TV shows and 20 films it is such a pleasure to return to my first love, poetry. I still enjoy comedy and can't help but include it in my writing and performances… thankfully, otherwise I'd be likely to top myself.
When did you start writing your own poems, and how did you develop your own style as a poet and performer?
I began writing poems and comedy bits at the age of 14. My mother died in a car accident when I was 11. Up until then I had been gregarious but after that I became withdrawn. I read Spike Milligan's Small Dreams of a Scorpion which really made an impression because here was a man so funny being so tender.
When I was about 18 I saw Roger McGough read 'Summer with Monica' during a work lunch break. I was a spotty insurance broker's clerk at the time in a purple suit with long hair parted in the middle. Later in my twenties I saw John Cooper Clarke and the now departed Seething Wells. They opened my eyes to the possibility of poetry as pop culture. I somehow fell into what you'd now call 'emo' music and moved to Manchester at a time when everyone seemed to be dressed like the Smiths. For me Manchester in those days was Heaven.
My style during these early years was probably a mixture of the Liverpool poets, Adrian Mitchell, the rant poets, John Hegley, Spike, JCC and hopefully a little of myself. I was certainly influenced by American vaudeville comics like Jack Benny and later New York Jewish comics like Mort Sahl, Lenny Bruce and early Woody Allen. Also, being from Nottingham, the novels of Alan Sillitoe I found inspirational.  As I've grown older I've read more traditional poets and appreciate a wider range of creativity. My current favourite writers are Alain de Botton and Bill Bryson. I've just bought Lemn's new book, Gold from the Stone, and I'm also reading Ruth Fainlight.
How does your writing day generally work?
Every day is different, as is every performance. It's an opportunity to communicate to other mortals.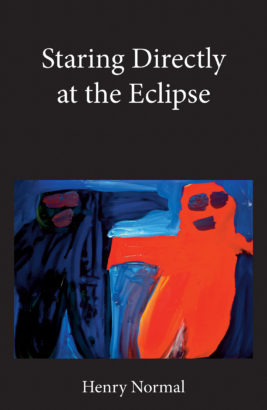 _
See Henry perform at this year's Festival alongside poets Melissa Lee-Houghton, Mark Pajak and Genevieve Walsh in an evening hosted by Manchester live literature organisation Bad Language. It takes place on Saturday 8th October, 7:30pm at the Anthony Burgess Foundation. Tickets £8/6, book on 0843 208 0500 or online via Quay Tickets.