MLF Chapter & Verse
The Manchester Literature Festival Blog
Review: Afternoon Tea with Jane Rogers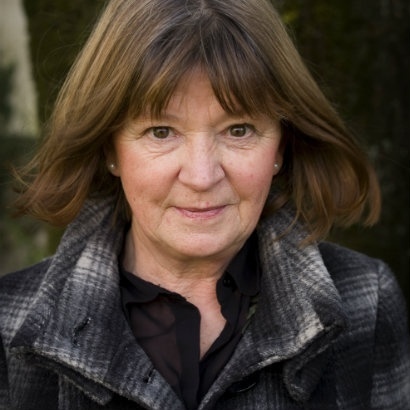 Festival blogger Sarah Butler headed to The Midland Hotel to hear Jane Rogers read and discuss the new short story, 'Haunting', commissioned as part of her residency at the hotel.
What's not to like? Listening to a new short story by writer Jane Rogers in the sumptuous setting of the Midland Hotel's Wyvern Suite, followed by copious amounts of tea, delicious scones and book chat with strangers?
For the last 6 years, The Midland Hotel and Manchester Literature Festival have commissioned a writer to spend 24 hours at the hotel and write a new story inspired by their experience.
After seeing an old photograph of a wedding party up on the roof garden of the hotel, Jane Rogers persuaded her guide to let her visit this space, now closed to the public for safety reasons. The experience of stepping from the dim luxury of the hotel into the bright light of a summer's day (I know, in Manchester!) inspired her story, Haunting.
The story centres on Carol, a woman in Manchester for a difficult meeting, who is troubled by a disruptive boy in the breakfast room of the Midland hotel: troubled because he is irritating and because there is something familiar about him. It turns out that the child is the son of the brother who terrorised Carol's childhood and who she hasn't seen for over 20 years.
The story moves from the claustrophobia of a remembered wardrobe (a vivid scene of childhood bullying), through the corridors of the hotel, which feel at points like something out of a horror movie, or an Escher picture – endless and inescapable – and finally out into the bright light and fresh air of the hotel's roof garden. It is here, "at the plumb centre of the world" where Carol is finally able to be still, to be present, to breathe, and where she at last confronts and rejects her brother, sending him back into the tiny dark lift, while she stays in the light.
I sincerely hope the Midland and MLF will continue the tradition of commissioning writers to respond to this special building, and look forward to hearing what the next lucky writer comes up with.
____
Sarah Butler is a Manchester-based novelist, published by Picador (Ten Things I've Learnt About Love and Before The Fire). You can read more of her writing at www.sarahbutler.org.uk and www.urbanwords.org.uk.
Image: Laurent Denimal