MLF Chapter & Verse
The Manchester Literature Festival Blog
Review: Afternoon Tea with Jenni Murray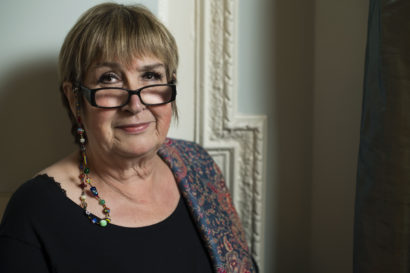 "The role of a woman was to be a good wife and mother": Our Young Digital Reporter Becky Roe enjoyed an inspiring introduction to author and Woman's Hour presenter Jenni Murray over Afternoon Tea.

I admit that unlike the majority (and I suspect all) of the audience for Afternoon Tea with Jenni Murray I had never listened to her radio show Woman's Hour, which is celebrating it's 70th anniversary this year – indeed I had never even heard of her before reading the Manchester Literature Festival program. However, I can confidently say that I will be a regular listener from now on. Jenni continually made the audience laugh and sigh when she shared anecdote after anecdote about her childhood, family and work – each underpinning the inspiration for her new book A History of Britain in 21 Women. She believes that the outdated attitudes about gender that led to the "cornucopia of different women" who fought so hard for us to be viewed as equal in society being brushed over and ignored, are in fact still very prominent.
Jenni started the event by reading out the introduction of the book, which immediately resonated within me, and I'm sure every other woman in the hall. The view that "the role of a woman was to be a good wife and mother" has been greatly challenged by the feminist movement and through this book Jenni wished to show how the actions of the 21 women included contributed to our current equality. Jenni's self-deprecating and slightly sarcastic sense of humour was a big hit, and the audience, myself included, was entirely captivated as she discussed what made the women she has included in the book great and her inspiration behind each one.
She also delved into modern politics, giving an insight into her opinion on the current American presidential candidates (Trump is a sexist disgrace and Clinton is "extraordinary"). Jenni addressed the current issues with our apparent equality, at a time when 54,000 women a year lose their jobs because they are pregnant and "girls' body image is worse now than it's ever been". She also spoke very frankly about how the portrayal of women and sex in the media, especially in pornography, has contributed to young people's insecurities and as she spoke murmurs of agreement and experience were audible.
The event was not only educational but also fun and thought-provoking. The only thing I wish had been different was that there were very few of "the young people who need to know" that Jenni had dedicated the book to at the event. After hearing her speak I had to buy the book and I suspect I will be thrusting it upon all my female friends so they can appreciate the long battle we as a gender have fought to be where we are today.
____
Becky Roe is an A-level student at North Halifax Grammar School studying history and literature.