MLF Chapter & Verse
The Manchester Literature Festival Blog
Review: An Evening With Jackie Kay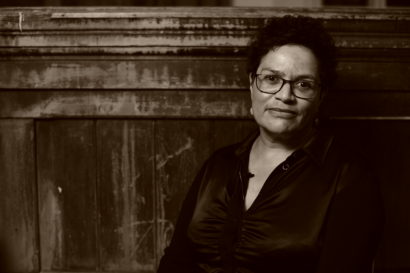 "The business of being a writer and a reader is like a call and response – it's like the blues. You throw something out and then stories come back to you.": Our blogger Abi Hynes is thrilled by Jackie Kay's writing. 
I don't know what I was expecting from my first in-real-life encounter with poet, author, playwright and Scottish Makar Jackie Kay, but it probably wasn't someone quite so warm and self-effacing. Through her writing, I think I'd imagined someone spikier. I mean that as a compliment; there's real political steel in much of her poetry, and Trumpet, her first and only novel to date, packs a punch that has stayed with me vividly. It's a bit strange that the person who wrote 'No man wants a fucking lesbian for his father' is now mock-scolding us for sitting there listening to her, when we "could all be at home watching Strictly."
It's a pleasure, then, to sit and listen to Kay's gentle but thoughtful discussion with Rachel Cooke, which is interspersed with Kay's poetry readings. Cooke guides us through a rough chronology, starting with Kay's childhood and early influences; Kay tells us that she felt her mother made up stories around her adoption in order to arm her child with something: "We picked you. Other people had to take what they got." She talks about starting to write political poetry aged 10, inspired by the protest songs she learned from her activist parents, and about how tracing her Nigerian birth father led her to a cleansing ceremony that she is now able to laugh about.
"You can't be self-pitying in a memoir," she says, of writing Red Dust Road, which covers some of this territory. "You can be burdened by your own story. [But] there's something about the telling of it that releases you… It can be like a little key that opens a door, and lets you out."
There are some interesting reflections on writing as a craft and a calling, too. She finds that poems are "less biddable, but more portable" than prose, and her reading of her poem 'Muse', is one of my highlights of the evening.
"It has your number written on its hand.
It thinks it knows you well."
Cooke flies swiftly through the always-potentially-icky subject of identity politics, and how it manifests itself in Kay's writing. Kay's response was spot on enough that I think, really, all other not-necessarily-white-heterosexual-male writers could probably just stick it on a badge or something to save themselves the bother next time around.
"It is wearing and tedious, being referred to with a long list of adjectives after your name. You wouldn't do that to Martin Amis… But, I also think you do have to name yourself. As Audre Lorde said: 'Your silence will not protect you'."
(There you go. Just print that off, folks; she's got it covered.)
Kay said, as her conversation with Cooke came to a close, that "the business of being a writer and a reader is like a call and response – it's like the blues. You throw something out and then stories come back to you." This was immediately proven to be true as the audience Q&A kicked off with someone who had been drawn to Kay's work as a "fellow adoptee", who wanted to talk about the difference that being uncertain of your heritage makes to how you relate to the world.
I leave the event reassured that, in the case of our national poets, at least (the "unacknowledged legislators of the world"), we seem to be in safe and compassionate hands.
___
Abi Hynes is a drama, fiction and poetry writer. She runs theatre company Faro Productions and cabaret collective First Draft. You can follow her on Twitter @AbiFaro