MLF Chapter & Verse
The Manchester Literature Festival Blog
Review: Eimear McBride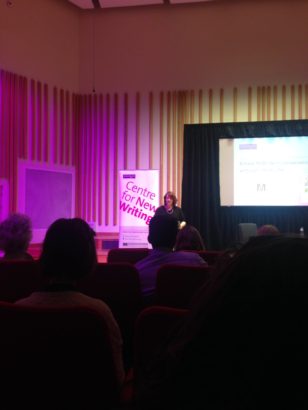 'I like to be praised incessantly': Our blogger Tara Sherman is delighted by the 'insightful, funny and assured' Eimear McBride at this year's Festival.

Be humane as a reader.
That was a tip from Eimear McBride, author of A Girl is a Half-Formed Thing and The Lesser Bohemians, two equally brilliant novels that are built around vulnerable and fascinating characters. Many people were in attendance to see this award-winning Irish author at the Martin Harris Centre for Music and Drama, in an event run in partnership with the Centre for New Writing.
In person, McBride is insightful, funny and assured. She began by reading an early scene from The Lesser Bohemians, when 18-year-old Eily sees the older actor she recently lost her virginity to. Via Eily's nervous and vibrant stream-of-consciousness, McBride took the audience on a tour through 1990's London with the energy of someone falling in love for the first time. 'Yes, there are audiobooks,' host John McAuliffe told the crowd when she'd finished, because her voice is that pleasing, encouraging readers to approach a novel in a different way.
McBride herself studied acting in London, and explained how this provided her with the perfect vehicle for constructing her characters. She coined the phrase 'Method Writing'; stripping away the self and reassembling it for the page. She laughed off the notion that women supposedly cannot write about male sexuality (which she thoroughly debunks in Bohemians). She recalled turning to artists like Nick Cave, Scott Walker, and other male singer-songwriters for help capturing male sexuality, figuring music was the best place to find men at their most vulnerable.
McAuliffe asked her about Girl, a novel that strays from standard grammatical structure, and how different countries have responded to it. Interestingly, she said Australians preferred to discuss the subject matter of sexual abuse rather than the book's unconventional form. They're more comfortable talking about sexual abuse in Australia than here in England, she suggested, as the English tend to discuss form instead.
McBride's journey to publication was not easy.  While Girl only took six months to write, what followed was nine years' worth of rejection from publishers. How could they market a narrative that breaks so many of the rules of the English language? Not knowing if it would ever be published, let alone win the Bailey's Women's Prize for Fiction amongst others, McBride kept Girl stashed away in her bottom drawer, and took a three-year hiatus before beginning her second novel. 'I had no muscle memory,' she explained to McAuliffe, recalling the difficulties of returning to something she'd previously abandoned. But she carried on writing The Lesser Bohemians for nine years, the same amount of time it took Girl to get published, and the result was a gorgeous new novel, crafted in such intimate detail that I had to make sure none of its pages were stuck together when I brought it to the signing.
'How do I praise you incessantly without sounding creepy?' I whispered to her.
            'I like to be praised incessantly' she replied.
Of course she does. Like her characters, McBride is human.
___
Tara Sherman is a recent graduate of the Centre for New Writing at the University of Manchester and is working on her first novel.