MLF Chapter & Verse
The Manchester Literature Festival Blog
Review: Gillian Slovo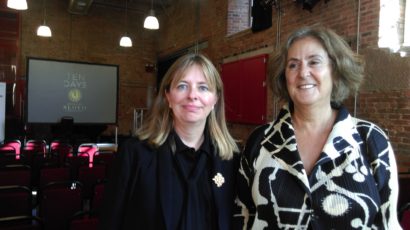 Festival blogger Kate Woodward headed to International Anthony Burgess Foundation to learn about the author of 13 acclaimed books including the Orange-shortlisted Ice Road, Gillian Slovo, and her latest novel, Ten Days.
I'm a wimp when it comes to grim news and prefer real events to be sanitised through the medium of fiction. I would never pick up an inquiry report or interview the mothers of young people who have left home to join Isis. The ability to face the real world, warts and all, is beyond me but, thankfully, not beyond Gillian Slovo.
It was a full house at the IABF. The audience had abandoned an afternoon's sunshine to hear the playwright, memoirist and author of 14 novels, in conversation with the Guardian's Rachel Cooke. Slovo's latest novel, Ten Days, a political thriller loosely based on the 2011 riots, provided the material for the opening readings. A rich vein of humour and compassion was in evidence despite the novel's unflinching portrayal of events, but it was the genesis of the novel that I found fascinating.
Working with Nick Kent of London's Tricycle on a piece of verbatim theatre, Slovo had interviewed more than 40 people directly involved in the riots. The voices that didn't end up in the production – The Riots – are finally given an airing via the characters in Ten Days.
Slovo started writing because it was 'the best thing she'd ever done'. Her childhood soundtrack was the tapping keys of her mother's typewriter, and she had always considered writing a 'proper job'. Her earliest novels were crime thrillers, the type of books she was reading, but she soon discovered the pull of character rather than plot-driven fiction.  Her subjects are the intersections between politics and ordinary lives, not surprising given her background. Born in South Africa, she came to England in 1964 as a refugee and compared the ease of her acceptance to the antipathy and hostility experienced by this century's refugees. The audience warmed to her themes, and although there were no overt political statements, it was clear that Slovo is not only saddened by the ugly truths of the world but prepared, through her work, to confront them.
l began to feel ashamed of my own lack of political engagement. But a head-in-the-sand response was never an option for the daughter of prominent, anti-apartheid activists, Ruth First and Joe Slovo.  Maybe it was inevitable that after her mother's assassination, she realised she could no longer avoid politics and found her writing tackling Stalinism, race, South African history, and, in Ten Days, police corruption and political treachery.
The talk did venture into less weighty issues: the shortage of glue on Post-It notes and a quick lesson on the inability of writers to see the difference between what they think they've written and what they actually have. The author confessed a passion for a good sentence – despite a successful, 30-year publishing career, Slovo says she is inspired to keep trying because of the wonderful writing of others.
With humility now added to compassion and bravery, I realised that in the decent-human stakes, I still have a long way to go.
___
Kate Woodward is starting work on her second novel. She has published short stories in The Ogham Stone, Brittle Star, online and on her own blog.  You can read more of her writing here or follow her on Twitter @spugletkw