MLF Chapter & Verse
The Manchester Literature Festival Blog
Review: Jonathan Safran Foer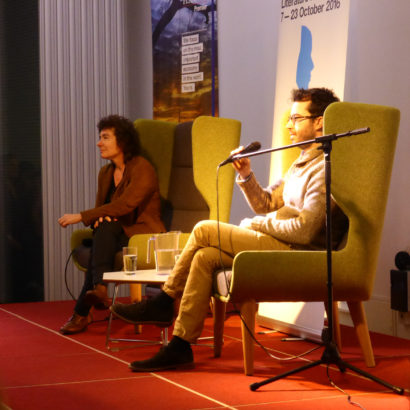 'I have two identities, one as a writer who makes mistakes and one as an editor who goes in afterwards to tidy up and hunt out the typos.': Our blogger Phil Olsen was illuminated by Jonathan Safran Foer who read from his new novel Here I Am, and discussed his writing and life with Jeanette Winterson.
Pausing for applause at the mention of Jonathan Safran Foer's name, Centre for New Writing Co-Director John McAuliffe then invited a small envious boo from the Central Library audience at the biographical fact that Jonathan was just twenty-five when his debut novel Everything is Illuminated was published. John handed over to Jeanette Winterson and so began an evening of two big name authors in two big armchairs. Jeanette and Jonathan bounced off each other in what could have been a TV talk show hosted by either. Jonathan gave a reading from his long-awaited new novel Here I Am, in which a married Jewish couple, Julia and Jacob – both in their early 40s – are coming a bit unstuck having got the second car and the second car insurance and the house with side-by-side sinks. 'Jacob taught his kids the difference between farther and further but no longer knew how to touch his wife.'
The characters are compelled to make choices. An earthquake in Israel is so dire that everyone is asked to join up and fight in the war. Jacob can feel the paradoxes of his Jewish identities breaking: Come and fight or admit that your country is dispensable. The title of the book is a reference to the Hebrew Bible's The Binding of Isaac, where Abraham is left with no alternative but to make a terrible choice. Jeanette puts it to Jonathan that this is the most explicitly Jewish of all his books. Jonathan seemed surprised by this. 'I just thought it was a very me book'.
Jeanette perceived a change in Jonathan's narrative point of view, from the precocious and dazzling protagonists of Everything is Illuminated to someone more mature and reflective – perhaps the effect of a ten year gap before this novel? Or of fatherhood? Jonathan explained that he always feels the thing he is writing is the last thing he'll ever write – and in a way that's true, because his next book will be written by a different person. He recalled being told by a philosophy professor not to fear death because you are not going to die; an older, more prepared version of you is. Then he added: 'But then the professor died and there's no way he wasn't sweating bullets!'
Jonathan thinks people read novels primarily for that moment of 'feeling known – finding an intimate connection, not with the characters but with the author. When everything falls away, when the title and the cover and the author photo and even the characters fall away, there's a knowing that's really singular.'
The pair then discussed the writing process, and Jonathan said that he definitely follows rather than plans the story. He explained that he has two identities, one as a writer who makes mistakes and one as an editor who goes in afterwards to tidy up and hunt out the typos. Mistakes and regrets are no bad thing though, as he neatly illustrated with a metaphor of Michelangelo's final sculpture in Milan – apparently the only piece the artist wasn't commissioned to make. Seeing a fifth arm alongside two figures had disconcerted Jonathan until he learnt that it was stopping the sculpture from falling over. 'That's a regret.'
In answer to the question of whether the process ends when the book is written, or whether all this – the reviews and the readings and the Q&As – matters too, Jonathan confessed that he does care how it is received. To begin with it is just the writer and the book, but then more and more people get involved and more distance opens up between the writer and the book. Pondering on the fact that it's nearly thirty years since her novel The Passion was published, Jeanette agreed that it now feels like it was written by someone else.
When it came to the Q&A Jeanette made it clear that there were to be no ten minute rambles in place of questions. No loons and no Monologue Man, please. It turned out this rule applied to lengthy answers too and Jonathan's podcast recommendations were abbreviated with: 'I'm going to have to move you on'. And then it dawned on him, 'Oh God, am I the loon?!'
Here I am. There he was. Evening was illuminating.
___
Phil Olsen won Writing on the Wall's WoWFest 2016 flash fiction competition and Book Week Scotland's 2014 flash fiction competition. You can follow him on Twitter @Liverpolsen.