MLF Chapter & Verse
The Manchester Literature Festival Blog
Review: Lionel Shriver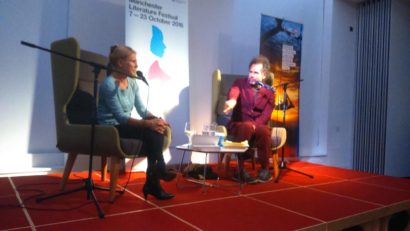 Our blogger Eli Regan reports from Central Library, where Lionel Shriver, author of a dozen previous books including We Need to Talk About Kevin, discussed new novel The Mandibles with Sarfraz Manzoor.
What happens when society and Western privilege collapse? Should we be sad at a future prospect of a mainly Spanish-speaking American president? Will art in a dystopian future seem a completely ridiculous indulgence? What happens when we cannot support the longevity of old people – when the support ratio is 1 to 1? These and other uncomfortable questions are discussed in Lionel Shriver's The Mandibles and were also dissected by Shriver herself and journalist and writer Sarfraz Manzoor at a packed Central Library event.
Shriver is an unflinching writer probing our current economic social construct (which is little more than a house of cards) in a novel based in the not-so-distant future where water availability and food are scarce and treatment for gluten intolerance, depression and gender re-assignment is a thing of the past. Although Shriver admitted to not relishing the thought of reading economics books, and regarding the business section of the newspaper in the past as 'fire starter', she found the research into economics, 'surprisingly psychological and apocalyptic, almost like reading science fiction.'
Her satirical novel centres on The Mandibles, a privileged, white American family whose wealth in hard times becomes precarious and redundant. As one of the characters, Florence, a homeless shelter worker, attests at the beginning of the book: 'She didn't see why being a citizen of a nation in decline should diminish her life.' But it does. Shriver touched on this in her conversation with Manzoor. She admitted to 'a festival of fears' which are then neatly and exaggeratedly transposed in The Mandibles, via a society where water, food,social cohesion and political diversity are in jeopardy, where China has the 1 dialling code (at present this is the USA's preserve) and Jakarta and Calcutta are now the Ivy League of the future, rather than Harvard and Princeton.
The conversation between Shriver and Manzoor took a difficult turn when Shriver discussed her 'investment in a perpetuation of our cultures' and everyone's tendency to 'primitive territorial paranoia' which Trump and Farage exploit. Without the context of reading her whole book this could be misinterpreted and Shriver's comments could be considered prejudiced. But in The Mandibles, the US economy is now a laughingstock, and the Mexicans have built a wall so poor Americans can't cross. These neat inversions ensure that Shriver is aware of how tenuous Western privilege is. She admitted to an attachment to English but sardonically inferred it might be an idea for her to learn Spanish.
So much of our existence is based on cognitive dissonance. The reason Shriver's vision is so discomfiting is that it forces us to look at how we're living now.
___
Eli Regan writes mainly on art and photography and has recently qualified as a NCTJ reporter. You can read more of her writing here or follow her on Twitter @ereganreviews 
Image: Sarah Lee